These Queen's Necklaces have an unmistakable royal, majestic beauty. Cleopatra herself prized lapis lazuli so highly that she had it seized from all the mines in the Middle East during her reign, and deemed it her own exclusive property; she even had lapis lazuli ground into powder for her eyeliner. She believed this stone held great power and influence – and she was correct. These necklaces radiate with the intense, and intoxicating vibrations of her fierce femininity. They make me feel like I've unlocked the secrets and sacred treasures of Cleopatra herself.
The deeper magic of the Queen's necklaces
Cleopatra was not just a Queen, she was a warrior, a muse, and a High Priestess. It was rumored that she was the incarnation of Isis herself. These necklaces invoke each part of her immortal essence, captured in her favorite stone. They are divine, and create a truly regal energy all around them. I walk with more grace, a more elegant gait, and with my head held higher as I work with this stone. Consider this piece your royal scepter. When you're feeling down or out of sorts, this gem will pick you right back up. Embrace your inner Queen. Your inner warrior. Your inner muse. Your inner priestess.
These Lapis lazuli necklaces come in a variety of shapes and sizes:
The High Priestess variety has larger, faceted beads.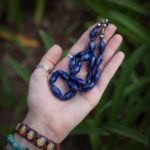 The Muse has smaller, circular beads.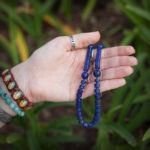 And The Warrior has concave- shaped beads.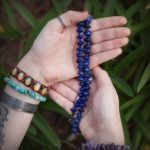 This listing is for one (1) Queen's Necklace. Choose the following: The Muse (about 19" in size), The Warrior (about 19.5" in size), or The High Priestess (about 22" in size) from the drop-down menu above. Yours will arrive lovingly parceled along with a single leaf of white sage and a card describing the properties of the stone.
Regal Blessings,
Athena
~*~ ~*~ ~*~ ~*~ ~*~ ~*~ ~*~ ~*~ ~*~ ~*~ ~*~ ~*~ ~*~ ~*~~*~ ~*~ ~*~ ~*~ ~*~ ~*~ ~*~
Charge your tools with orgone energy on my custom Orgonite Charging Plate.
Anoint your crystals and gemstone jewelry with my SG Anointing Blend.
Want to learn more about gems, minerals, and crystal healing? Join our private Facebook group at www.facebook.com/groups/GemHaven
Want to learn more about perfume and aromatherapy? Join our private Facebook group at www.facebook.com/groups/SGPerfumery