These tools accompany our 2023 Living Magic program. Living Magic is an online experience designed to bring magic to your everyday life – your home, your meditation space, your body, your mind, your family, your relationships, and most of all your SPIRIT. The Living Magic program includes four monthly sessions that are tied to a seasonal and energetic theme, each dedicated to a different aspect of your life, your routine, and your healing. The four sessions are Living Astrology, Practicing Magic, Crystalpedia, and Sound Healing.
We create a new set of tools for each month that's available as an ongoing monthly subscription. This custom-designed set includes all the necessary tools for the entire month's Living Magic sessions except Crystalpedia (there's a separate toolkit subscription for Crystalpedia). These tools vary monthly and align with the month's theme. To secure these tools, you must subscribe before midnight on the 15th day of the previous month.
NOTE: You must subscribe by the 15th of the month to receive your toolkit for the following month (e.g. subscribe by January 15 to receive February's tools).
A second tool subscription is available for Crystalpedia. This smaller set contains all the crystals and tools we'll work with during the monthly Crystalpedia session. Click here to subscribe to the Crystalpedia tools.
All tools are voluntary and not required for you to participate in the program. But if you want the whole experience, we recommend a subscription to both the Living Magic and Crystalpedia sets to receive tools for all sessions throughout the month.
You will be charged for your first set of class tools as soon as you subscribe, and on the 15th of every month moving forward.
HOW CLASS TOOL SUBSCRIPTIONS ARE BILLED
When you sign up for either the Living Magic or Crystalpedia tool subscription, you are billed for your first kit immediately. Your subscription will then auto-renew on the 15th of every month. If you start your subscription before the 15th of a given month, you will skip the first payment because your immediate payment upon subscribing has already covered this amount.
You must start your subscription by the 15th of a given month to receive the following month's tools.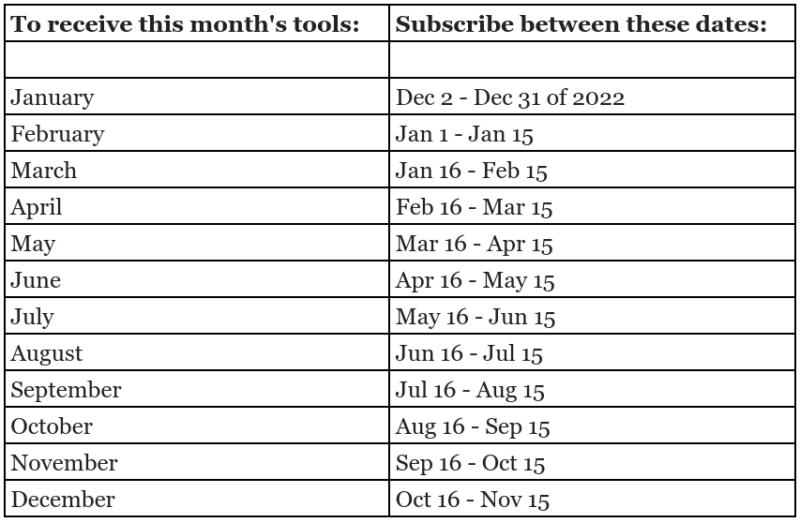 About April 2023 Living Magic Tools
In April Living Magic, we're focusing on the magic of neutrality and holding space. We'll be learning about mediation, how to negotiate energy between people in relationships, what it means to hold space, and maintaining our own sovereignty in the process. The tools in this kit will enhance the energies we're working with this month. Learn more and sign up here!
You will receive the following in your kit:
One (1) Clear Quartz Chime (about 22"), custom-made just for Sage Goddess. This chime is set into a clear acrylic stand and comes with an 8" mallet with a rubber striker. This chime is tuned to the note F, resonating with the Heart Chakra — the center of your body's energy that regulates all your energy flow. Love for yourself and others arises from this chakra, along with compassion and affection. When the Heart Chakra is balanced, love and a sense of hope flow easily.
Clear quartz is the most pervasive crystal in the gem world and has three major properties: Amplification, programmability, and magnification. It activates the Soul Star Chakra — your connection to the stars and other dimensions.
Can be worked with to boost the energies of other stones or seal intentions and is ideal for crystal grids.
Possesses a high vibration that immediately draws people in.
Can be worked with to magnify frequencies of abundance, light, and love — or any intention you wish to amplify.
One (1) 11 oz Space Holding Intention Candle, hand-poured right here at Sage Goddess Headquarters with a lavender soy-wax blend. Candles are fire magic that transforms the room and mood. They also clear negativity, heal, and purify. This candle is laced with notes of heather, lavender, cilantro, sage, and mint and infused with chrysocolla for compromise, negotiation, and reconciliation. It's topped with purple glitter and mica for emotional healing and a mini quartz point for amplifying and directing energy and comes beautifully wrapped with green sari silk.
Heather supports new beginnings and self-discovery. It represents excitement, passion, celebration, and sensuality — the unbridled expression of our innermost desires.
Lavender brings tranquility, enhances meditation, and activates the Crown Chakra for higher levels of consciousness. It calms and centers the mind and is an excellent aid for contemplation.
Cilantro is uplifting and invites peaceful communication. It improves insight into challenging situations and enhances intuition and self-understanding.
Sage is a sacred herb that's been used for centuries by elders to draw positive spirits and discourage the presence of any unwanted energy. Most people find the scent grounding and centering.
Mint brings deep healing to your mind, body, and spirit and a sense of rejuvenation and happiness.
One (1) 10 ml mini bottle of April Living Essence Mist, hand-blended right here at Sage Goddess Headquarters with the intention of supporting neutrality and space holding. This ain't your mama's mist, and yes, you should use this as a mist and perfume, anointing your body and space. We formulated this to be so super long-lasting that anything it touches will hold the scent for days.
Instead of using a classic carrier like jojoba oil or ethyl-alcohol, our carrier is a luxurious gemstone-infused hydrosol blend of juniper, rose, and chamomile. To add to the magic, I will be infusing and charging the mother bottle of hydrosol with different gemstones to support our intentions every month. This month, I've chosen citron chrysoprase for perspective and understanding, compassion stone for kindness, grace, and balance, and snowflake obsidian to heal both present and past-life issues.
The process of creating this mist was months in the making. After charging, this hydrosol infusion was blended with notes of petitgrain, mogra attar, cardamom, blue tansy, and spruce. It's also infused with 24-carat gold flakes to conduct energy and boost your life force and a chrysocolla chip stone for clear communication. This offering comes in a custom-made black bottle with an atomizer.
Juniper brings protection, peace, centeredness, and balance. Working with juniper helps you get grounded and focused.
Rose is a flower of promises, new beginnings, hope, and healing and promotes happiness and commitment. It encourages soul connection and opens channels of receptivity.
Chamomile brings energetic clearing and a wide range of magical benefits. It's deeply relaxing and meditative and produces a sense of well-being.
Petitgrain is relaxing and helps you release anger and heal emotional wounds. It's useful for meditation because it calms, clears the mind, and elevates consciousness.
Mogra attar has a sweet, pleasing fragrance that draws you in. It energizes and revitalizes and is very helpful in relieving worry and frustration.
Cardamom has a warm nature that creates feelings of comfort and security, helping you tap into your loving, generous side. It's an aphrodisiac that enhances insight, enthusiasm, and wisdom.
Blue tansy helps you release stressful emotions and emotional stagnation and eases all types of hypersensitivity. It's uplifting, soothing, and balances and calms the mind.
Spruce has an earthy scent that calms, clarifies, and eases stress. It brings out your inner resilience and reminds you not to doubt yourself even when life is challenging.
One (1) 10-gram mini jar of April Living Incense, hand-crafted right here at Sage Goddess Headquarters with thyme, rose petals, petitgrain, mogra attar, blue tansy, Roman chamomile, and black spruce. It's blended with a base of makko, which has been used since ancient times in crafting incense. It burns with minimal fragrance and allows loose incense blends to burn more easily without the addition of charcoal. The properties of rose, petitgrain, mogra attar, and blue tansy can be found above.
Thyme is purifying and supports the process of releasing and forgiving. It's an herb of remembrance that enhances psychic powers and renews energy.
Roman chamomile is profoundly relaxing and meditative. It can be worked with to call in peace, abundance, love, and purification.
Black spruce is calming and deepens meditation. It's also cleansing, clarifying, purifying, energizing, and uplifting.
Your incense comes lovingly packaged in a custom-made amber glass jar. Ancient Egyptians and Romans would 'perfume' the air with the incense they burned. They believed that the sacred smoke of incense would raise all surrounding vibrations and assist them in their magical practice. Burning incense is a great way to clear energy and prepare sacred space, and it connects us with the ancients in a powerful and beautiful way.
One (1) Living Astrology Flashcard (about 5×7"), printed right here at Sage Goddess Headquarters and created by my talented team of designers. This is a reference card for the yin/feminine and yang/masculine aspects of astrology.
This listing is for a monthly subscription to the Sage Goddess Living Magic Tools as described above. Each kit will arrive lovingly packaged and ready for your enjoyment.
With love,
Athena
***Please note when ordering, this item runs heavy, and shipping costs will be reflected accordingly***
Note: Always burn incense in a heat-proof burner, dish, or bowl. Living Scent Magic Mist is made with natural essential and carrier oils and may contain fragrance oils. Cap, chip stone, and color may vary slightly. For external use only.
Note: Please always burn candles on a heatproof stable surface, and never leave a burning candle unattended. Burn time for this candle is about 75-80 hours, depending on the environment. Burn times will always vary depending on the placement of your candle and the height of your wick. The longer the wick, the quicker the candle will burn. Drafty areas will burn slightly quicker. You can extend your candles' burn time by burning them long enough to allow the wax pool to reach the edge. If you do not allow them to burn all the way to the edge of the container when you first burn them, they will begin to tunnel down into the wax instead of melting all the way to the edges.
Under California law (Proposition 65), we are required to inform you that because this item contains an agricultural product(s), it may also expose you to certain chemicals – natural or otherwise occurring, which are known to the State of California to cause cancer or birth defects or other reproductive harm. For more information go to: www.P65Warnings.ca.gov
~*~ ~*~ ~*~ ~*~ ~*~ ~*~ ~*~ ~*~ ~*~ ~*~ ~*~ ~*~ ~*~ ~*~~*~ ~*~ ~*~ ~*~ ~*~ ~*~
Charge your tools with orgone energy on my custom Orgonite Charging Plate.
Anoint your crystals and gemstone jewelry with my SG Anointing Blend.
Want to learn more about gems, minerals, and crystal healing? Join our private Sage Goddess Gems & Crystal Magic Facebook group.
Want to learn more about perfume and aromatherapy? Join our private Sage Goddess Perfume & Aromatherapy Magic Facebook group.
Want to learn more about moon magic, astrology, and metaphysics? Join our private Sage Goddess Astrology & Moon Magic Facebook group.
Take a look at some of our previous offerings
January 2023 Tools: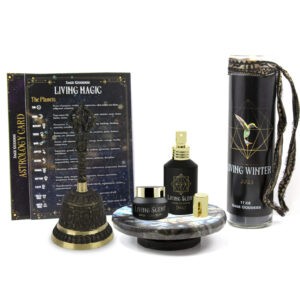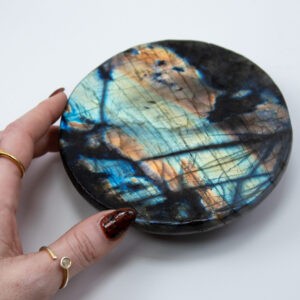 February 2023 Tools: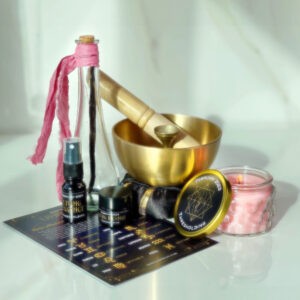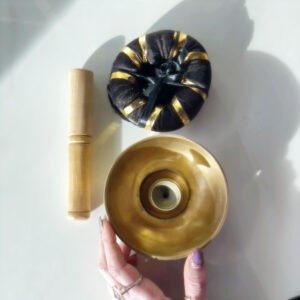 March 2023 Tools: