These tools accompany our 2023 Living Magic program. Living Magic is an online experience designed to bring magic to your everyday life – your home, your meditation space, your body, your mind, your family, your relationships, and most of all your SPIRIT. The Living Magic program includes four monthly sessions that are tied to a seasonal and energetic theme, each dedicated to a different aspect of your life, your routine, and your healing. The four sessions are Living Astrology, Practicing Magic, Crystalpedia, and Sound Healing.
We create a new set of tools for each month that's available as an ongoing monthly subscription. This custom-designed set includes all the necessary tools for the entire month's Living Magic sessions except Crystalpedia (there's a separate toolkit subscription for Crystalpedia). These tools vary monthly and align with the month's theme. To secure these tools, you must subscribe before midnight on the 15th day of the previous month.
NOTE: You have until December 31, 2022, to subscribe and receive the January 2023 tools. Beginning with February's toolkit, you must subscribe by the 15th day of the previous month (e.g., subscribe by January 15 to receive February's tools).
A second tool subscription is available for Crystalpedia. This smaller set contains all the crystals and tools we'll work with during the monthly Crystalpedia session. Click here to subscribe to the Crystalpedia tools.
All tools are voluntary and not required for you to participate in the program. But if you want the whole experience, we recommend a subscription to both the Living Magic and Crystalpedia sets to receive tools for all sessions throughout the month.
You will be charged for your first set of class tools as soon as you subscribe, and on the 15th of every month moving forward.
HOW CLASS TOOL SUBSCRIPTIONS ARE BILLED
When you sign up for either the Living Magic or Crystalpedia tool subscription, you are billed for your first kit immediately. Your subscription will then auto-renew on the 15th of every month. If you start your subscription before the 15th of a given month, you will skip the first payment because your immediate payment upon subscribing has already covered this amount.
You must start your subscription by the 15th of a given month to receive the following month's tools.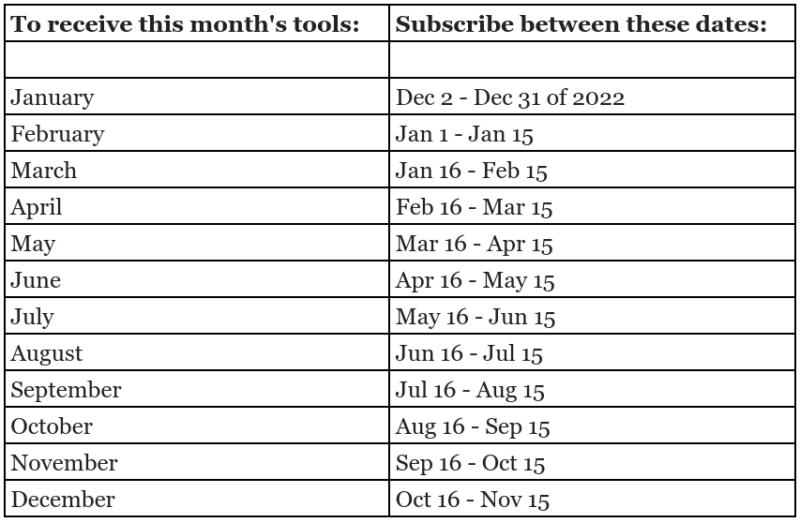 About February 2023 Living Magic Tools
In February Living Magic, we're focusing on manifesting love and Divine connection, including how to move towards authenticity in a way that acknowledges clean relationships. We'll explore many ways to invite love into your life, including crystal healing, astrology, and sound healing. The tools in this kit will enhance the energies we're working with this month. Learn more and sign up here!
As you review the offerings below, imagine your altar for classes coming alive with Divine love and oh-so-much sensuality. Are you ready?
You will receive the following in your kit:
One (1) Brass Singing Bowl (about 4.5"), with a round black satin cotton-filled cushion that has a hollow center for the bowl to rest on (about 4") and a mango wood mallet (about 6"), all custom-made just for Sage Goddess.
Singing bowls are beautiful tools that produce high vibrational frequencies transmitted through sound healing. They've been used in spiritual ceremonies and practices for centuries. The rhythmic and harmonious sounds they emit promote relaxation, reduce stress, balance your chakras, and get you into a deep meditative state. In addition, singing bowls clear negative energies and purify your space. When played, this singing bowl rings out in the note of G, resonating with the Throat Chakra, which is located at your physical throat and holds your truth and how you express it. This energy center is associated with your voice and how you share your wisdom with the world.
Brass is a mixture of copper and zinc. It's believed to help eliminate toxins in the body, boost courage and confidence, and assist you with being more assertive. Brass helps to bring out the good in people and promotes inner truth. Mango wood represents strength, purity, happiness, and good fortune and is often used during spiritual rituals. It's said that the Buddha created the mango tree from a single seed he planted at Shrasvasti, the ancient city where he spent most of his days after his enlightenment.
One (1) 4 oz Tantric Tincture Bottle (about 7"). This empty glass bottle with a cork stopper and pink sari silk is for you to create your own tantric tincture, and it comes with one (1) A-Grade Madagascar Vanilla Bean. Vanilla beans come from a rare orchid and are painstakingly grown almost solely in Madagascar. They're very difficult to cultivate and process, which is why they're so expensive. Each pod that grows from an orchid is full of thousands of tiny black beans and holds a wonderfully warm and seductive fragrance. It's a powerful aphrodisiac that enhances libido and increases sexual arousal. It promotes relaxation and both attracts what you desire and repels what you don't want or need in your life. It also fosters peace and contentment.
Together, we'll be crafting our own unique tantric tincture! I suggest working with vodka or raw apple cider vinegar as the base ingredient (or both together). For the tincture itself, the ingredients you could incorporate are only limited by your imagination! For a sensual, tantric blend I recommend working with any combination of the following:
Honey
Dried Rose Petals
Saffron
Dried Ashwagandha Root
Black Pepper
Cardamom
Damiana
Ginger
Strawberry
Tonka Bean
If you wish to set a different intention with your tincture, you can use any ingredients that call to you!
One (1) 3.4 oz Votive Intention Candle, hand-poured right here at Sage Goddess Headquarters with a pink soy wax blend. Candles are fire magic that transforms the room and mood. They also clear negativity, heal and purify. This candle is laced with sensuality-inducing notes of geranium, tonka bean, ylang ylang, and cacao. It's topped with glitter for a bit of sparkle and a clear quartz point for directing and amplifying magic. It's also infused with a tumbled peach morganite – the Queen of love stones.
Geranium increases socialization, fertility, and feelings of love. It helps alleviate worry and sadness and lifts your spirit. 
Tonka bean is a natural aphrodisiac and is often worked with for attraction magic. It's associated with Venus, the goddess of love and beauty, and brings love and good fortune.
Ylang ylang helps the heart to open, which facilitates the healing of deep emotional trauma. It cultivates inner joy, trust, and a true openness of heart.
Cacao is intoxicating and heart-opening. It expands your awareness, frees up creative expression, clears emotional and spiritual blocks, and deepens authentic connections.
One (1) 10 ml mini bottle of February Living Essence Mist, hand-blended right here at Sage Goddess Headquarters with the intention of invoking energies of sensuality and attraction. This ain't your mama's mist, and yes, you should use this as a mist and perfume, anointing your body and space. We formulated this to be so super long-lasting that anything it touches will hold the scent for days.
Instead of using a classic carrier like jojoba oil or ethyl-alcohol, our carrier is a luxurious gemstone-infused geranium and rose hydrosol blend to encourage soul connection and open channels of receptivity. To add to the magic, every month, I will be infusing and charging the mother bottle of hydrosol with different gemstones to support our intentions. This month, I have chosen rhodizite for attraction, self-esteem, and optimism, pink morganite to release pain and help you feel worthy of love, and pink cobalto calcite for compassion and unconditional love. With our theme of love and Divine connections for February, these had to be the stones chosen to blend into the mist you'll work with all month long.
The process of creating this mist was months in the making. After charging, this hydrosol infusion was blended with notes of tonka bean, ylang ylang, and cacao, with properties as described above, as well as pink lotus and coffee. It's also infused with 24-carat gold flakes to conduct energy and boost your life force and a clear quartz chip stone to amplify the magic.
Pink Lotus represents spiritual awareness and promotes peace and tranquility. It helps you honor where you are on your soul's journey celebrate the beauty of your spirit.
Coffee is grounding, nourishing, and cleansing and provides peace of mind. It brings balance, wisdom, comfort, and healing and fosters trust.
One (1) 10 g mini-jar of February Living Incense, hand-crafted right here at Sage Goddess Headquarters with cacao, blue lotus, rose buds and petals, and makko. It also contains a special essential oil blend of coffee, tonka bean, ylang ylang, and cacao to amplify the energy and intention. The properties for coffee, tonka bean, ylang ylang, and cacao can be found above.
Blue lotus alters and elevates consciousness. It's relaxing, deepens sleep, relieves stress, and is an aphrodisiac.
Rose encourages soul connection and opens channels of receptivity. It's a flower of promises, new beginnings, hope, and healing and promotes happiness and commitment.
Makko has been used since ancient times in crafting incense. It burns with minimal fragrance and allows loose incense blends to burn more easily.
Your incense comes lovingly packaged in a custom-made amber glass jar. Ancient Egyptians and Romans would 'perfume' the air with the incense they burned. They believed that the sacred smoke of incense would raise all surrounding vibrations and assist them in their magical practice. Burning incense is a great way to clear energy and prepare sacred space, and it connects us with the ancients in a powerful and beautiful way.
One (1) Living Astrology Flashcard (about 5 x 7"), printed right here at Sage Goddess Headquarters and created by my talented team of designers. This is a reference card for the different modes or modalities – whether a sign is cardinal, mutable, or fixed.
This listing is for a monthly subscription to the Sage Goddess Living Magic Tools as described above. Each kit will arrive lovingly packaged and ready for your enjoyment.
With love,
Athena
***Please note when ordering, this item runs heavy, and shipping costs will be reflected accordingly***
Note: Always burn incense in a heat-proof burner, dish, or bowl. Living Scent Magic Mist is made with natural essential and carrier oils and may contain fragrance oils. Cap, chip stone, and color may vary slightly. For external use only.
Please always burn candles on a heatproof stable surface. Never leave a burning candle unattended.
Under California law (Proposition 65), we are required to inform you that because this item contains an agricultural product(s), it may also expose you to certain chemicals – natural or otherwise occurring, which are known to the State of California to cause cancer or birth defects or other reproductive harm. For more information go to: www.P65Warnings.ca.gov
~*~ ~*~ ~*~ ~*~ ~*~ ~*~ ~*~ ~*~ ~*~ ~*~ ~*~ ~*~ ~*~ ~*~~*~ ~*~ ~*~ ~*~ ~*~ ~*~
Charge your tools with orgone energy on my custom Orgonite Charging Plate.
Anoint your crystals and gemstone jewelry with my SG Anointing Blend.
Want to learn more about gems, minerals, and crystal healing? Join our private Facebook group at www.facebook.com/groups/GemHaven
Want to learn more about perfume and aromatherapy? Join our private Facebook group at www.facebook.com/groups/SGPerfumery
Take a look at some of our previous offerings
January 2023 Tools: