The Ultimate Guide to Chakras
My first book, "The Ultimate Guide to Chakras," is FINALLY here and I couldn't be more excited! The creation of this book took months of labor, love, and inward journeying, and it is finally ready to make its way into the world. Nothing excites me more than the idea of you taking this book in your hands and diving in, allowing the words and even more importantly the energy to reach and teach you. As I have told many of you, you might wish to read this book backwards. I don't follow rules, so I wrote the conclusion to be read first (it was channeled from my guides) and then go back and begin at the beginning. In Latin, we call this in medias res or "in the middle of things." Latin writing always started in the middle of the story because it was thought that beginnings were misleading. Is anything ever really just beginning? No. We are always entering an old story from where we are today.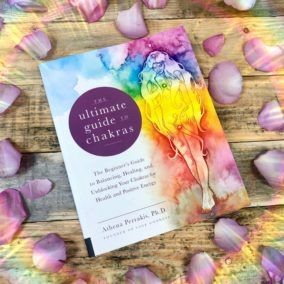 As my core family, I want you to know that this book is a work of my heart and is a culmination of years of chakra research and practice. Each chapter of "The Ultimate Guide to Chakras" includes exercises for accessing the energy of each chakra and offers meditations, journal prompts, and information on working with goddesses and spirit guides. Elegantly photographed and illustrated, this book is an essential volume for beginners and experienced energy workers alike. I couldn't be more grateful to finally be able to share it with you. I hope you love reading it as much as I loved writing every word.
To purchase a copy of my book, click here.
If you enjoyed my book, please don't forget to leave your review on Amazon,  Barnes and Noble or other online retailers.