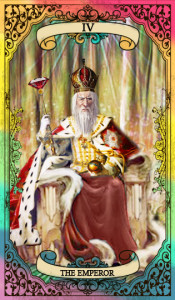 Our cards for March's class are two masculine archetypes; The Emperor and The Hierophant. Emperor is Number Four of the Major Arcana, the fourth person The Fool encounters on his journey. The Emperor represents the act of fathering; establishing a family line, guiding and directing, protecting, and regimenting behavior. He embodies all aspects of the patriarcy and the establishment. He is "The Man." In many ways he is the polar opposite to The Empress, who we studied last month. While she is the Earth Mother who represents abundance – nourishing and nurturing, our pleasure in sensory experiences, and our connection to the natural world – The Emperor is the ultimate representation of the male ego, reigning over his domain with utmost authority and control. He represents bringing order to chaos, and is often tied to the legal system, and other institutions of power and dominance. He is shown sitting on his throne adorned with ram's heads, holding an ankh scepter in his right hand and a globe in his left. His throne is on the top of a dry mountain, symbolizing being at the top of the hierarchy, sternness, and control.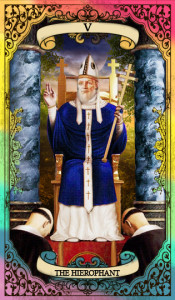 The Hierophant is related to him in that he also represents aspects of rule-following and the establishment. He is the ultimate Father; the Pope. His card is representative of the educational system and the pursuit of knowledge, having a disciplined belief system, and conforming with a group identity. The Hierophant's domain is that of scholarly training, especially of the group mentality. A Hierophant literally means someone who interprets secret knowledge. He is shown sitting in a throne between two pillars, wearing the religious clothing of a pope in a church area. Two men kneel beneath him, and he is the one to reveal their roles in the church. His right hand is raised in benediction, with two fingers pointing skyward and two pointing down, representing a bridge between Heaven and Earth. In his left hand he holds a triple cross, on his head is a triple crown, and the keys to Heaven lay at his feet. This card is also known as The High Priest, and serves as a counterpart to The High Priestess. His domain involves organized and regulated groups, and rewards those who follow conventions. This archetype can symbolize learning or educational institutions and what they have to offer us. The Hierophant symbolizes the need we feel to fit into a group or a collective mentality; to conform.
I hope you enjoyed our first two classes, and I look forward to chatting with each of you in our Facebook group until our next class on March 25th! Continue to explore your Rider-Waite deck, as well as the Tarot Ritual Kits, which you can either subscribe to and receive your tarot kit monthly, or get the new kit today. I can't wait to see you in class.
If you are joining me for the first time, you can purchase previous tarot classes here.
Many blessings on your own journey to deeper wisdom,
Athena