October Sabbatical 2018 Purchase
Sabbatical October Opening:
Magical Sabbatical Chalice Crafting Class:
Sabbatical Class – October 18, 5:00 PM PDT:
Magic of Japan

Ancient Japanese, like the Romans, believed that gods and spirits inhabited every aspect of their lives – from the mists of the mountain tops to the blades of grass and water gracefully falling over secluded forests. Japan's natural beauty was (and still is) so remarkable that it evoked a deep fascination with its complexity, known as the religion of Shinto – the Way of the Gods. Shinto incorporated every facet of nature with a spirit, or deity, calledkami. The kami were friendly spirits who watched over humans and maintained the peace if kept satisfied. However, if the Japanese people violated the cardinal rules of spiritual and physical cleanliness, the kami unleashed their wrath. And so, to appease the kami, Japanese kept their sacred places immaculate by undergoing regular purification rituals.
Shinto maintained unity amongst its people by associating their very existence through myths and legends, such as the divine beginnings of Izanagi and Izanami – the deities who created the islands of Japan. After they descended from the heavens, they had many offspring including the most important deity in Shinto: the sun goddess, Amaterasu.
Amaterasu is the central deity of the Shinto religion. Goddess of the Sun and Universe, her name is derived from Amaterum which means Shining in Heaven. Amaterasu famously hid in a cave in fear of her brother, who tried to discredit her. Amaterasu had no idea how beautiful life was until the gorgeous Shaman Uzume strung a mirror and a jade necklace outside of the cave to reflect her beauty. When she caught her reflection, she gave life back to the perishing lands and never hid again. Amaterasu is responsible for keeping harmony in the earthly realm and is the only female supreme deity in any Japanese religion or pantheon. Even the rising sun depicted on the Japanese flag symbolizes Amaterasu.
Generations of Japanese emperors claimed their divinity by tracing their lineage back to Amaterasu herself. If an Emperor was found to be the direct descendant of the sun goddess, he was worshiped as a living god.
Discussion Question: Which spirits do you believe inhabit your everyday life
Ritual
Every twenty years, the Japanese hold a sacred ceremony called "Sengu". The purpose is to rebuild Amaterasu's shrine, which takes place in the Ise City. Rebuilding her shrine renders her sanctuary eternal, and the skills of shrine builders and craftsmen are also passed on from generation to generation. Sacred treasures, clothing, rice, and wheat are all offerings that remain in the shrine until it is rebuilt twenty years later.

During this Sabbatical class, we will rebuild! Let's take apart your altar and remove tools that no longer serve you. Write a letter to your future self, seal it up and read it a year later. Let's honor the bright light provided from Amaterasu and make an altar of courage – one that stands in an abundance of beauty and illuminating energy.
Once you have cleared your altar and sealed your treasures, begin a ritual with a clean slate. Remember, intention matters more than your actions. Be present and mindful, and focus on the intentions you put into every movement you make during ritual.
First, burn white sage to lift the room, inviting in only the pure, positive vibrations. All ritual must always begin by removing any negative vibrations from your space. With your eyes closed, stay in the connected beam of white light.
Anoint yourself with my Amaterasu Perfume, created with uplifting notes of ginger, cedar, and lemongrass to help you energize, cleanse, and support your spirit.

Allow your Taiyō Candle to serve as the centerpiece on your new altar. Place the stones around the candle. Then, light your candle, come into present time, take three deep breaths, and visualize yourself in your purest form. What do you need to release? How will you transform?
As you focus on yourself, stay present using your Chinese jade mala. Wearing or holding mala beads helps you stay present and focused on your intentions. Jade is the stone of good fortune and a potent talisman of balance, protection, and harmony. Take in all your beauty, even the dark parts of yourself. Close your eyes again and be grateful for everything you are, you've been, and will be.
Discussion Question: What tools no longer serve your higher purpose?
Magic of Japan: Eternal Sanctuaries Set
This set is filled with tools intentionally chosen to help you create an eternal sanctuary, inside of yourself and out. It's time to release, revive, and shine!
I chose ginger, cedar, and lemongrass for my Amaterasu Perfume. Anoint yourself, your candle, and your stones with this blend to invoke Amaterasu's blessings. Allow her to show you your own brilliance, so you may radiate happiness and be the beacon of light in the darkness. Your bottle of perfume has been infused with a sunstone chip stone to fill you with clarity and optimism.

Ginger is incredibly empowering. It induces feelings of self-assurance and courageousness. Cedar has been used for centuries to cleanse, purify, and heal. And lemongrass increases energetic awareness and mental clarity and is useful for overcoming fatigue and feelings of anxiety.
Use the Taiyō Candle in this set – which is hand-poured with deep yellow soy wax and infused with a clear quartz chip stone – to invoke your inherent power.
Your stone duo includes one natural fuchsite and one silver leaf jasper. This set is intended for use during ritual.
Fuchsite is the stone of life force. This gem possesses a vibration that is soothing, balancing, and restoring. It is a true healer's stone.
Silver leaf jasper is the stone of strong willpower, organization, enhanced focus, and self-discipline. This gem offers guidance when struggling to find focus, increases independence, and helps you stay firm against intimidation.
Use the Chinese jade mala to support your prayer and meditation. Wearing or holding mala beads is said to bring about higher consciousness and balance, as well as an awakening of the spiritual body. Jade is the stone of good luck and prosperity, and a talisman of balance, protection, and harmony.

Place your custom-made SG canvas art on your altar and use your stone set to place as you feel called during class.
Discussion Question: Which tool are you most likely to keep using in the future?
MAGICAL SABBATICAL 2018 RETREAT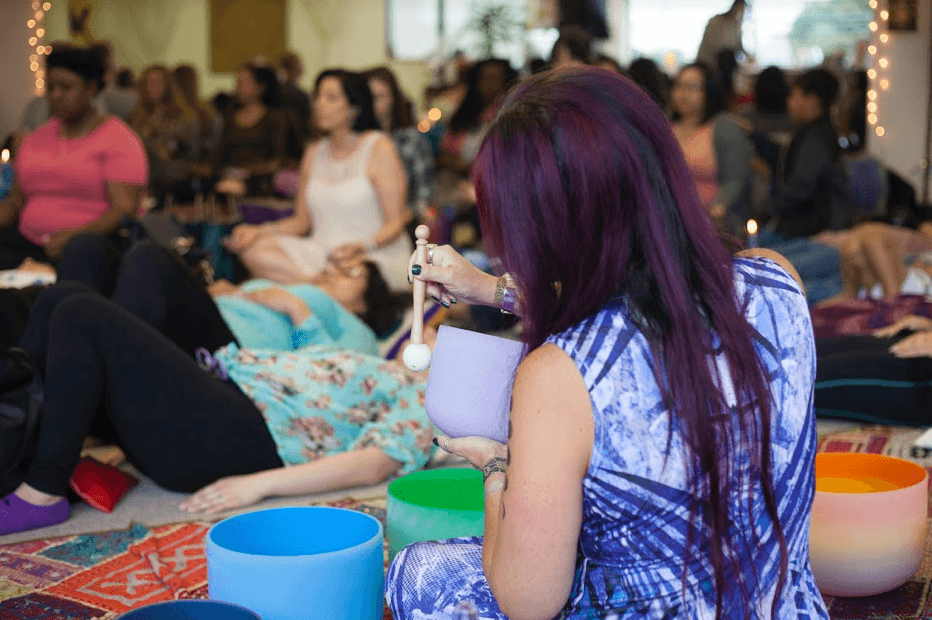 Sisters – We have been journeying through A World of Magic this year, and many of you have been with me for much longer. Together, we activate and integrate magic in ritual and in our daily lives. We support each other with open hearts and allow ourselves to be seen. Our divine sisterhood is sacred to me, and I'm so thankful for each of you and how you hold this space with me in meditation, discussion, prayer, and intention. We get real and we go deep! In light and shadow, laughter and hard times, we hold each other steady and lift each other's spirits. Our virtual connection is powerful, but there's something extra special about being together in the same physical space. This is our time to step away from day-to-day existence and retreat into soul exploration, Elder Council, drum circle, and so much more. I'm so excited to share this experience with you!
This retreat will be held October 25 and 26 at Sage Goddess HQ.
Attendance is limited to 75 people who must have an active Sabbatical membership now, and uninterrupted through the dates of the event. Friends and family are welcome to travel with attendees and attend public SG events (space permitting) but only registered attendees will be allowed to attend and participate in retreat functions.
The first 75 people to register will have secured attendance. Tickets are on sale through Eventbrite with no additional fees. A waitlist will be provided for those who do not secure a ticket for this event. If you do secure a ticket but will be unable to attend, please contact [email protected] so we can offer your ticket to the person at the top of the waitlist. Those on the waitlist will receive priority for spots that open up due to cancellation.
Tickets are not transferable. Sage Goddess assumes no liability for attendees at events and all attendees will be required to sign a waiver prior to attending.
This retreat will be held at SG Headquarters but does not include room and board. Recommendations will be provided for travel and hotel accommodations. Some food may be provided at this event, but each attendee will be responsible for his/her regular meals.
Retreat Agenda:
Thursday, October 25
10 am – Welcome
10am – 5pm – Sabbatical Retreat Activities, tbd
5 pm – Public SG Full Moon Event
Friday, October 26
10 am – Elder Council
11am – 4pm – Sabbatical Retreat Activities, tbd
4pm – Closing exercise
FAQs
What are my transportation/parking options for getting to and from the event?
This event is located at Sage Goddess HQ in Torrance, CA. We are located on a commercial lot with plenty of free parking. Uber and Lyft are also very popular rideshare options.
What can I bring into the event?
You may bring your stones, candles, perfumes, smudging tools – all the things to create your altar. Remeber to dress comfortably and be prepared to remove your shoes before entering our ritual space.
How can I contact the organizer with any questions?
If you have any questions please reach out by emailing [email protected]
Is my registration fee or ticket transferrable?
Tickets are not transferable. If you realize that you are unable to attend after securing your ticket, please contact [email protected] so that we can offer your ticket to the person on top of the waitlist.
Things to do in the area:
Entertainment:
Restaurants:
Breweries:
NEW SABB RETREAT INFO:
Sisters,
Our retreat is coming up this week, and I'm so excited to retreat into soul exploration alongside all of you. We have so many incredible things planned for these two sacred days, and I just know it's going to be the experience of a lifetime. Please read through this email carefully – I want to make sure you have everything you need to make this a powerful and memorable experience!
Important note: The activities at the retreat could be physically, mentally, and spiritually tiring. Please try and rest as much as possible in the days running up to the event. Eat light, healthy meals and reduce your meal sizes, particularly on the days of the retreat. This will make meditation, classes, and activities easier.
Most of all I want you to be comfortable! Bring clothes that you can move around in and bring a warm sweater in case the room is chilly. Remember, you will need to remove you shoes, and we will be sitting and laying down on the floor. Here are my other recommendations for each day of the retreat:
Thursday: Feel free to bring small gemstones, candles, and perfumes – all the things you'll need to create your own Full Moon altar for meditation. If you have your Full Moon set, make sure to bring that!
Friday: You'll want to have a yoga/exercise mat, an eye mask (or anything else to cover your eyes), and a light blanket ready for our breathwork class with Jesse Gros.
We are located at 3830 Del Amo Blvd #101, Torrance, CA 90503 on a commercial lot with plenty of free parking. You can also plug this address into ride share services including Lyft and Uber.
Thursday October 25
9:30am: Check-in and light breakfast
10:15am: Welcome from Athena
10:30am: Chalice Crafting Session (You still have time to purchase your crafting set here before Monday's deadline)
12:30pm: Lunch (If you would like us to provide lunch for you, please sign-up here before Monday)
2pm: Cacao ceremony with Elaine Alghani
5pm: Full Moon Magical Meet-up and Cacao ceremony recap
6pm: Full Moon event to connect with your Divine Feminine Power (This ceremony is reserved just for you! Please feel free to invite your friends and family)
Friday October 26
10:30 am: Arrival and light breakfast
11:00am: Elder Council lead by Athena (Bring your chumpi stones if you have them)
12:00: Lunch
2pm: Breathwork class with Jesse Gros (Don't forget your eye coverings and yoga mats)
4pm: Closing Meditation and Commitment Ceremony
5:30pm: Visit to Lazy Acres
Lunch:
Based on responses from a large number of attendees, we are offering you the option to pre-purchase a simple lunch on both days that will be served in the Sage Goddess Head Offices. Please be sure to pre-purchase your lunch here, before October 19.
If you would prefer to arrange your own lunch, there are restaurants and grocery stores a short distance away.
You also have the option of using a meal delivery service if you would prefer.
Group Crafting Session:
On Thursday afternoon, I will be offering an optional magical chalice crafting session. Don't forget to pre-purchase your crafting set in advance! These will go on sale soon. Please make sure you purchase the set specifically for those attending the retreat – you will not have to pay for shipping and we'll have your set ready for you when you get here.
What to wear:
Dress comfortably, and be prepared to remove your shoes before entering our ritual space!
Seating:
Although there is no reserved seating, there's plenty of floor seating available. We also have a few sofas and lounge chairs for your comfort, and we kindly ask that you reserve these seats for the guests who truly need them.
I'm so excited for our retreat, and I can't wait to see all of you beautiful souls there! Thank you for joining me on this sacred journey – it's going to be an experience of a lifetime.
I'll be counting the days until retreat! It's sure to be a beautiful and transformative experience, and I can't wait to share the magic with you. I added more in-depth information about our retreat tools below as well, so be sure to check them out.
All my love,
Magical Chalices Crafting Set
In honor of this special event, I want to offer you these Magical Chalices, which we'll decorate together at the retreat. With your chalice, you'll also receive chip stones to decorate your chalice as you feel called, along with a faerie quartz point: a talisman of the connection we all share. We will also have additional crafting supplies waiting for you at the retreat.
Israel Full Moon Set: The Connection to the Divine Feminine
This set is filled with treasures that will connect you with Asherah, a powerful goddess whose story is shrouded in mystery and magic. Work with these tools to call down Asherah's incredible energy and to connect more deeply with your own Divine Feminine power.
This set is filled with treasures that will connect you with Asherah, a powerful goddess hailed for her ability to walk on water and command the seas. Order these toolsnow and receive them in time for the retreat!
Let us take care of the lunch planning for you! This offering will provide you lunch for both days of the retreat. For more details, click here. This offer will only be available until October 19.