Website Scavenger Hunt
Search SageGoddess.com for Unique Crystal Treasures
Save 18% with code 18HUNT
Hunt for magic, and magic you shall find…
In celebration of spring, we've hidden treasures all across SageGoddess.com. All you need to do is solve our clues!
Ready to start the hunt for fascinating gems and treasures? Read the rules below!
Here's How to Play:
Step 1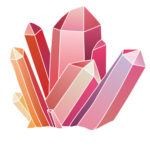 We've hidden this gemstone icon in different places on SageGoddess.com, and now you're on the hunt to find it! Use the clues provided below to explore the website and see if you can spot it. Once you find it, click the icon to reveal your prize. There are multiple clues, and prizes, but you can only claim one prize per day – so be sure to pick your favorite. If you uncover a prize and notice it's out of stock that means someone else found it before you. Congratulate yourself on how far you've come! And, if you so choose, continue your search for even more prizes.
Step 2
Once you find your prize, add your favorite items to your cart and head over to check out! During our scavenger hunt, you can save 18% on most non-digital items all across SageGoddess.com with code 18HUNT. But remember, you may only claim 1 prize per day! So be wise on your search.
Step 3
Share the prizes you uncover to Facebook and Instagram and tag #SGScavengerHunt. Encourage your magical community to participate, too! There are so many magical treasures we've hidden all across the website, all waiting for you to find them.
Are you ready? The hunt begins now! 
Today's clues:
Our SG Scavenger Hunt has ended. Thank you for playing!
What magical prizes will you find?