Welcome to the latest edition of the Weekly Sage, an outward and inward look at the week to come. So many of us use Tarot, astrology, and contemplative journaling to support ourselves and each other. We hope this little weekly blog will inspire all of us to think, feel, and transform in bigger ways together. May it unite us by collectively magnifying our personal intentions into a potent resource of positive energy, that will spread into our communities and beyond.
It's almost time for the Tucson Gem Show – the largest international gem and metal show on the planet! And that means it's your chance for me to shop off the top, just for you. Purchase your Tucson Treasures from one of our price points, either $100, $200, $500, or $1,000,  and I will go to the show and  shop for you! I'll be spending an entire week searching every corner of the show for the best, rarest, and most beautiful surprise offerings to bring home and share with you. My first 100 customers will receive a FREE gift. How incredible is that?  This is a truly magical opportunity. Also, if you join Gem Wise, you have the opportunity to get the real inside scoop at the Gem Show! I will be posting extra special product videos, and doing loads of juicy giveaways on the Gem Wise Facebook page.
Did you know?  Our Holistic Healer courses will now explore "A World of Magic" by taking students through the history of global civilizations and metacultures. Each month we will focus on one civilization, and the course content will be inflected by subject area across the three Sage Goddess classes. Holistic Healers who are enrolled in all three classes will gain a wealth of knowledge about the history and mystery of magic.
The first stop on our journey around the World of Magic is ancient Sumeria, the world's oldest civilization. Sumerian lifestyle is the base upon which the pillars of Sage Goddess has been built – the embodied stronghold between manifest reality and that which is holy and profound. Join us and learn all about the history and magic of this ancient civilization, and see how it resonates within your life. You still have time to join us! Click here for more information.

When you enroll as a Holistic Healer, you will also have the chance to start at the TOP of the list as an Advisor in our new Affiliate program. Referrals and commissions are live now!  It's easy to join, and there are no monthly membership costs or minimum product order requirements. This is the perfect opportunity for you to work from home, and earn a living by doing what you're already doing – sharing the magic of Sage Goddess products and memberships. I truly hope you will be able to further your journey by harnessing your passions and magical gifts to manifest prosperity and abundance in 2018. Click HERE to learn more.
Experience the energy of the upcoming new moon on January 16th with us at Sage Goddess. Join us before the celebration for our Magic Meetup. There will be plenty of refreshments, snacks, and exclusive SG offerings to explore. I will also be in the classroom early so I may be able to spend personal time and connect with all my sisters beforehand. RSVP here to join us in person or online.



Astrology
We will experience a New Moon in Capricorn on January 16th at 6:17 pm Pacific Time. When you set your New Moon intentions, harness the driven, ambitious, and authoritative qualities of the Sea-goat. When the Moon is new, we are invited to make wishes, set intentions, and anchor space for a fresh start. RSVP here for our online and in-person event. Read more about the Capricorn New Moon here.
Venus enters Aquarius on the evening of January 17th. With Venus in Aquarius, we are encouraged to love in unique ways, while belonging and connecting as real people with hearts, feelings and fears. Aquarius is not a water sign, although many less familiar with astrology confuse this. It bears the water, giving new meaning, value, and purpose to what has become hardened, dry, and barren. It revives and reforms by breaking molds. Allow the energy of this transit  to open your hearts in new ways, bridging passion and generosity with positive, progressive, and light-hearted action.
The Sun enters Aquarius, the sign of the Water Bearer on January 19th, bringing our attention to the greater good, the true needs of others, how we fit into the bigger picture, and humanitarian causes. Aquarian energy invites us to be ourselves, in naked authenticity. Aquarius stands for liberation and freedom, but can be very rigid and fixed in its stance on individuation, social justice, human rights, and the need to be different and unique. The Tarot card associated with Aquarius is The Star, Major Arcana XVII. The Star often depicts a naked, beautiful woman next to a stream, collecting refreshing water in a pitcher. She fills this container with life-giving water, which she will pour out in a gesture of hope, healing, and renewed mental and social perspective – to create a better for world for everyone and everything. May you bring healing water, hope, and a brilliant guiding star to yourself and anything around you in need of forward thinking, improvement, and evolution.

Weekly Tarot
The Devil Tarot card comes forward for all of us today, representing our deceptions. The Devil is not portrayed as Satan (a common misconception), but as the Satyr, Dionysus – god of wine, ritual, and desire, indicating we may be using our own frivolity as a scapegoat from our own darkness. When The Devil Tarot card comes forward, it advises us to awaken from our illusions, because we aren't allowing ourselves to experience true freedom. We hold onto the belief that outside forces are constricting our ability to move forward. The Devil encourages us to see through the delusions of our temptations and indulgences, and to experience the instinctual power that resides in us all. On the other hand, The Devil card may be encouraging us to let go of control, to submit to our desires if we've been too rigid in our lives. It represents our need to feel free and break from our self-inflicted chains. Are you working too much? Putting others' needs above your own? Are you sometimes riddled with overwhelming anxiety? Are you taking the things that bedevil you too seriously? The Devil symbolizes the need to surrender to your own pleasures, every once in awhile.


AroMagic Oil of the Week 
The AroMagic oil of the week is Rose de Mai. Rose de Mai is said to have the highest vibrational frequency of any oil. The oil of this magical flower is a powerful heart healer; it helps you invoke powerful soul connections, and allows you to open yourself up to receiving all the blessings of love the Universe holds for you. Rose de Mai promotes happiness, harmony, and beauty, and provides relief from feelings of fear, stress, and anxiety. It is also a wonderful beauty tool – mix it with a carrier oil, such as jojoba or avocado oil, and apply it on your skin to achieve a heavenly glow.


Weekly Journal
It's no secret that inspiration leads us to greatness. Without inspiration, motivation does not exist. It allows us to take chances, think in bigger and better ways, and push forward with insurmountable energy. The beauty of inspiration lies in its simplicity, however, it's a concept that can seem difficult to pin down if we only rely on our eyes, and forget to feel it with our hearts. Inspiration can be contained in the scent of honeysuckle, a line in a movie, a chord progression in a song,  your favorite book, or the bond you have with your best friend. It could be in a lover's kiss… or even a memory. Inspiration chooses no favorite – it is versatile and sometimes unexpected. When we use our inspiration to drive us to become greater, we also inspire others. How powerful is that? Everything we do not only affects us, it affects others. Every positive thought, exchange, and action drives others to become greater. We have the power to affect change just by living our truth. What inspires you? What is your driving force? How do you inspire others?


Big Question: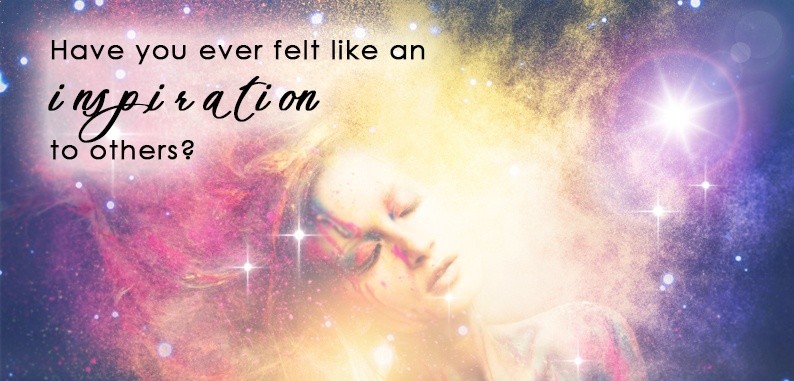 I love and encourage all magical feedback from my readers, my loves! However I do not regularly moderate comments on the Sage Goddess blogs. So if you have a specific question or query that you'd like us to answer, please contact us via our Facebook page or email magic@sagegoddess.com.