Description
Sage Goddess offers the world's most popular online metaphysical courses, and my 2020 programs are finally here! Do you love crystals and want to know how to work with them? Have you dreamed of creating a career as a crystal healer? Do you want to learn how to work with crystals to balance, heal, shift, and manifest energy? My brand new Crystal Masters online program is here to help you uncover ALL of my crystal healing techniques, including how to work with your stones for wellness, and at a fraction of the cost of other online programs.
We create a new set of crystal healing tools each month that will be available for purchase. This set contains some of the most important crystals, stones and gems we'll work with during the monthly Crystal Masters class. These tools vary from month to month, are custom designed for Sage Goddess, and align with the month's theme.
Once you have subscribed to your tools, you will be automatically billed on the 15th of every month. Please be aware that the bill date is not the ship date. Due to the high volume of orders, we ship in batches to be delivered in time for the first class the following month.
These tools accompany our Sage Goddess Crystal Masters program. If you would like to join us, click here!
HOW CLASS TOOL SUBSCRIPTIONS ARE BILLED
When you sign up for either the Soul Shift or Crystal Masters tool subscription, you are billed for your first kit immediately. Your subscription will then auto-renew on the 15th of every month. If you start your subscription before the 15th of a given month, you will skip the first payment because your immediate payment upon subscribing has already covered this amount.
You must start your subscription by the 14th of a given month to receive the following month's tools. 
If the tools are showing Out Of Stock, please join the waitlist by clicking the button above. You will be alerted via email as as soon as the tools become available. Please note: Joining the waitlist DOES NOT mean that you are subscribed, only that you will be emailed once additional tools become available. You must then return to this page to subscribe.
You will be charged for your first set of class tools as soon as you subscribe, and on the 15th of every month moving forward. 
The deeper magic of the Crystal Masters Tools
About June 2020 Sage Goddess Soul Shift Crystal Masters Tools
In our greater Soul Shift program, Expanding your consciousness is the guiding theme of June's magical work, and it's the force that guides all that we move into this next month. In June, we'll explore cultivating and trusting intuition, Arcturian council and star gateway transmissions, developing psychic gifts through meditation and divination, remote healing and intuitive bodywork, and ethics of psychic work and sacred relationship. Our symbol for June is Balance and our guide is Pythia. Pythia, or Oracle of Delphi, was the title of the high priestess of the Temple of Apollo. She was highly respected, and it was believed she channeled prophecies from Apollo himself while in a deep trance. People came from all over the world to ask the Pythia questions about the future, and her answers could determine anything, from when to plant crops to when to declare war.
You will receive the following:
One (1) lapis lazuli and iolite pendulum. This gorgeous pendulum is carved from lapis lazuli and adorned with two iolite beads. It's custom-made just for SG and is truly fit for a goddess. Lapis lazuli is known as the Queen's Stone and every woman should work with it. Holding and working with this royal crystal evokes the inner priestess, goddess, and queen in ways most stones don't – and, it was prized by Cleopatra. Lapis lazuli brings confidence, courage, and good fortune. It also activates your Third Eye Chakra for enhanced intuition, wisdom, and insight. If you need a boost of self-esteem or are looking to develop your psychic gifts, lapis lazuli is your gem!
Iolite, also known as cordierite, helps you find your way through the voyage of life. The Vikings used it to help them "see" their voyages in their Third Eye Chakra before they left the shore. Iolite guides you in understanding what your heart truly wants. It helps you see what lies ahead, so you can take the best course of action. Iolite also increases the vividness and detail of vision, illuminating knowledge of past lives. It shows you areas of old fears and unhealed wounds; the ones you must face to begin healing, to grow in the present. With this clarity of inner sight, you can uncover parts of yourself not known to your conscious mind. Iolite bridges your present mind with intuitive knowing, drawing a strong energetic link between your brain and heart.
Pendulums sense and respond to the energy around them and are a powerful way to connect with your inner truth. Hold this pendulum with a steady hand and ask of its divine wisdom. Allow it to answer you as it begins to swing back and forth or in a circular motion. Remember, it can only answer "yes" or "no" (after you've calibrated it to your intuition by asking it base questions you already have the answers to). Once you know how your pendulum moves with your energy, you'll be able to discover answers to things unknown. Allow this pendulum to connect you to the truth that already resides within.
This listing is for a monthly subscription to the Sage Goddess Soul Shift Crystal Masters Tools. Each kit will arrive lovingly parceled along with a single leaf of white sage and cards describing the properties of the stones.
Blessings,
Athena
~*~ ~*~ ~*~ ~*~ ~*~ ~*~ ~*~ ~*~ ~*~ ~*~ ~*~ ~*~ ~*~ ~*~~*~ ~*~ ~*~ ~*~ ~*~ ~*~ ~*~
Charge your tools with orgone energy on my custom Orgonite Charging Plate.
Anoint your crystals and gemstone jewelry with my SG Anointing Blend.
Want to learn more about gems, minerals, and crystal healing? Join our private Facebook group at www.facebook.com/groups/GemHaven
Want to learn more about perfume and aromatherapy? Join our private Facebook group at www.facebook.com/groups/SGPerfumery
Take a look at our previous offerings
February Tools: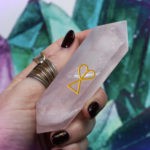 March Tools: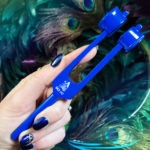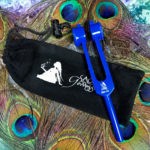 April Tools: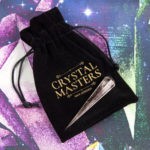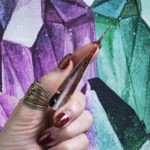 May Tools: