Description
Sage Goddess offers the world's most popular online metaphysical courses, and my 2020 programs are finally here! Do you love crystals and want to know how to work with them? Have you dreamed of creating a career as a crystal healer? Do you want to learn how to work with crystals to balance, heal, shift, and manifest energy? My brand new Crystal Masters online program is here to help you uncover ALL of my crystal healing techniques, including how to work with your stones for wellness, and at a fraction of the cost of other online programs.
We create a new set of crystal healing tools each month that will be available for purchase. This set contains some of the most important crystals, stones and gems we'll work with during the monthly Crystal Masters class. These tools vary from month to month, are custom designed for Sage Goddess, and align with the month's theme.
Once you have subscribed to your tools, you will be automatically billed on the 15th of every month. Please be aware that the bill date is not the ship date. Due to the high volume of orders, we ship in batches to be delivered in time for the first class the following month.
These tools accompany our Sage Goddess Crystal Masters program. If you would like to join us, click here!
HOW CLASS TOOL SUBSCRIPTIONS ARE BILLED
When you sign up for either the Soul Shift or Crystal Masters tool subscription, you are billed for your first kit immediately. Your subscription will then auto-renew on the 15th of every month. If you start your subscription before the 15th of a given month, you will skip the first payment because your immediate payment upon subscribing has already covered this amount.
You must start your subscription by the 14th of a given month to receive the following month's tools. 
If the tools are showing Out Of Stock, please join the waitlist by clicking the button above. You will be alerted via email as as soon as the tools become available. Please note: Joining the waitlist DOES NOT mean that you are subscribed, only that you will be emailed once additional tools become available. You must then return to this page to subscribe.
You will be charged for your first set of class tools as soon as you subscribe, and on the 15th of every month moving forward. 
The deeper magic of the Crystal Masters Tools
About April 2020 Sage Goddess Soul Shift Crystal Masters Tools
In our greater Soul Shift program, Birthing your Vision is the guiding theme of April's magical work, and it's the force that guides all that we move into this next month. In April, we'll explore quantum relationships and sacred reciprocity, activate Hermetic wisdom and principles, and address quantum entanglement and energetic cords. Our symbol for April is Creation and our guide is Hermes Trismegistus. Hermes Trismegistus, or "Thrice Greatest Hermes," or "Hermes Thrice-born," was the name given to the Egyptian god Thoth, once known as Jhuti – the god of learning, wisdom, and literature. He was the author of the books carried in the sacred processions of Egypt, records of ancient events and mysteries. Hermes is credited for writing 42 magical books and manuscripts and is regarded as the personification of Neo-Platonic philosophy, the mystical author of all wisdom and knowledge.
You will receive the following:
One (1) smoky quartz extractor. Smoky quartz is a protective and grounding Root Chakra stone that absorbs and transmutes negative energy and purifies your aura. It's a powerful healer that absorbs and transmutes the energies the body cannot take or hold on its own. You're also more likely to see ghosts, fairies, UFOs, and spirit guides when smoky quartz is around. Extractors help you remove energy that isn't serving your greatest good. These tools will help you remove and transmute energetic blockages and disturbances, clearing the way to manifest your dreams and desires.
This listing is for a monthly subscription to the Sage Goddess Soul Shift Crystal Masters Tools. Each kit will arrive lovingly parceled along with a single leaf of white sage and a card describing the properties of the stone.
Blessings,
Athena
~*~ ~*~ ~*~ ~*~ ~*~ ~*~ ~*~ ~*~ ~*~ ~*~ ~*~ ~*~ ~*~ ~*~~*~ ~*~ ~*~ ~*~ ~*~ ~*~ ~*~
Charge your tools with orgone energy on my custom Orgonite Charging Plate.
Anoint your crystals and gemstone jewelry with my SG Anointing Blend.
Want to learn more about gems, minerals, and crystal healing? Join our private Facebook group at www.facebook.com/groups/GemHaven
Want to learn more about perfume and aromatherapy? Join our private Facebook group at www.facebook.com/groups/SGPerfumery
Take a look at our previous offerings
February Tools: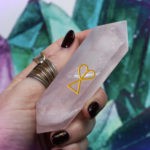 March Tools: