Description
Sage Goddess offers the world's most popular online metaphysical courses, and my 2020 programs are finally here! Do you love crystals and want to know how to work with them? Have you dreamed of creating a career as a crystal healer? Do you want to learn how to work with crystals to balance, heal, shift, and manifest energy? My brand new Crystal Masters online program is here to help you uncover ALL of my crystal healing techniques, including how to work with your stones for wellness, and at a fraction of the cost of other online programs.
We create a new set of crystal healing tools each month that will be available for purchase. This set contains some of the most important crystals, stones and gems we'll work with during the monthly Crystal Masters class. These tools vary from month to month, are custom designed for Sage Goddess, and align with the month's theme.
Once you have subscribed to your tools, you will be automatically billed on the 15th of every month. Please be aware that the bill date is not the ship date. Due to the high volume of orders, we ship in batches to be delivered in time for the first class the following month.
These tools accompany our Sage Goddess Crystal Masters program. If you would like to join us, click here!
HOW CLASS TOOL SUBSCRIPTIONS ARE BILLED
When you sign up for either the Soul Shift or Crystal Masters tool subscription, you are billed for your first kit immediately. Your subscription will then auto-renew on the 15th of every month. If you start your subscription before the 15th of a given month, you will skip the first payment because your immediate payment upon subscribing has already covered this amount.
You must start your subscription by the 14th of a given month to receive the following month's tools. 
If the tools are showing Out Of Stock, please join the waitlist by clicking the button above. You will be alerted via email as as soon as the tools become available. Please note: Joining the waitlist DOES NOT mean that you are subscribed, only that you will be emailed once additional tools become available. You must then return to this page to subscribe.
You will be charged for your first set of class tools as soon as you subscribe, and on the 15th of every month moving forward. 
The deeper magic of the Crystal Masters Tools
About July 2020 Sage Goddess Soul Shift Crystal Masters Tools
In our greater Soul Shift program, Exploring your dreams is the guiding theme of July's magical work, and it's the force that guides all that we move into this next month. In July, we'll explore translating dreamtime wisdom, which includes lucid dreaming, astral travel, interdimensional access and awareness, and Jungian archetypal analysis. We'll also dive into Akashic wisdom; accessing the cosmic library. Our symbol for July is Awareness and our guide is Morpheus. Morpheus is the Greek god associated with sleep and dreams. He appears in human form, serves as a messenger of the gods, and is able to communicate divine messages in dreams. Work with the energy of Morpheus to ground into your dreams with courage.
You will receive the following:
One (1) sodalite pyramid (about 3"). This stunning pyramid is carved from sodalite. This Dreamcatcher Stone assists in releasing fears of the unknown. Sodalite helps you get a good night's rest, banishing nightmares and allowing only sweet dreams. Sodalite also activates the Third Eye Chakra. It expands your vision, deepens your wisdom, and enhances your intuition. This gem's frequency will keep you focused in the moment and rooted in the present. Sodalite helps you let go of fear preventing you from reaching your fullest potential. It helps you trust your inner guidance and accept and explore the unknown. This gorgeous blue gem soothes the body and mind and increases overall well-being. Work with sodalite to tune in to your inner guidance and restore your natural state of calm presence and awareness.
The pyramid is a sacred symbol across many cultures and has been for millennia. It represents the element of fire and creates a natural balance between the physical and spiritual. Pyramids symbolize the union of the trinity and the four directions, creating a vortex of energy that can heal, purify, and magnify whatever you focus your intentions on. This sodalite pyramid is perfect for keeping on your bedside table to bring you peace during slumber.
One (1) sample of Dark Lavender Perfume. Dark Lavender Perfume is my take on lavender. It's deep, dark, and different. Four types of lavender from around the world, imported directly from Spain, Bulgaria, and France, combine here in a perfume that's naturally almost black. Anoint with this blend for peace, rest, and relaxation.
This listing is for a monthly subscription to the Sage Goddess Soul Shift Crystal Masters Tools. Each kit will arrive lovingly parceled along with a single leaf of white sage and a card describing the properties of the stone.
Blessings,
Athena
Note: Dark Lavender Perfume is made with natural essential and carrier oils and may contain fragrance oils. For external use only.
~*~ ~*~ ~*~ ~*~ ~*~ ~*~ ~*~ ~*~ ~*~ ~*~ ~*~ ~*~ ~*~ ~*~~*~ ~*~ ~*~ ~*~ ~*~ ~*~ ~*~
Charge your tools with orgone energy on my custom Orgonite Charging Plate.
Anoint your crystals and gemstone jewelry with my SG Anointing Blend.
Want to learn more about gems, minerals, and crystal healing? Join our private Facebook group at www.facebook.com/groups/GemHaven
Want to learn more about perfume and aromatherapy? Join our private Facebook group at www.facebook.com/groups/SGPerfumery
Take a look at our previous offerings
February Tools: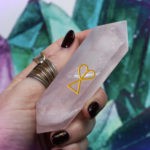 March Tools: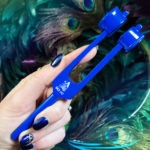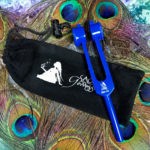 April Tools: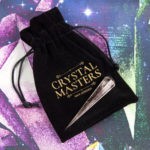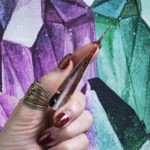 May Tools: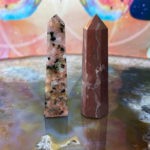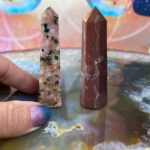 June Tools: