Description
Sage Goddess offers the world's most popular online metaphysical courses, and my 2020 programs are finally here! If you've dreamed of becoming a leader, a crystal healer, a ceremonial expert, and a master craftsperson of sacred tools, Sage Goddess Soul Shift is for you! I designed Soul Shift's weekly classes to help you explore your spirituality, expand your personal power, deepen your inner wisdom, and unlock joy, prosperity, and unlimited potential. Learn more here. 
We create a new set of sacred Soul Shift tools each month that will be available for purchase. This set combines all the necessary tools, amulets, medicines, and crafting materials you will need for the month's Soul Shift sessions. These tools vary from month to month and align with the month's theme. In addition, a second set of tools is available for the Crystal Masters monthly session. This smaller set contains all the crystals, stones and gems we'll work with during the monthly Crystal Masters class. We recommend that Soul Shift members subscribe to both sets to receive tools for Soul Shift AND Crystal Masters classes throughout the month. Click here to subscribe to your Crystal Masters tools.
All tools are voluntary, and not required for you to take part in either Soul Shift or Crystal Masters.
Once you have subscribed to your tools, you will be automatically billed on the 15th of every month. Please be aware that the bill date is not the ship date. Due to the high volume of orders, we ship in batches to be delivered in time for the first class the following month.
These tools accompany our Sage Goddess Soul Shift program. If you would like to join us, click here!
You will be charged for your first set of class tools as soon as you subscribe, and on the 15th of every month moving forward. 
HOW CLASS TOOL SUBSCRIPTIONS ARE BILLED
When you sign up for either the Soul Shift or Crystal Masters tool subscription, you are billed for your first kit immediately. Your subscription will then auto-renew on the 15th of every month. If you start your subscription before the 15th of a given month, you will skip the first payment because your immediate payment upon subscribing has already covered this amount.
You must start your subscription by the 14th of a given month to receive the following month's tools. 
The deeper magic of Sage Goddess Soul Shift Monthly Tools
About March 2020 Sage Goddess Soul Shift: Essence of Relationships Kit
Reviewing and Renewing Your Commitments is the guiding theme of March's magical work, and it's the force that guides all that we move into this next month. In March, we'll seek to more deeply understand our soul contracts by clearing old patterns and engaging with lineage healing. We can learn to approach our relationships with empowered compassion and grace, honoring our sacred service to self, family, and the greater community. We're acknowledging the end of the gestation season, a time of powerful renewal. By going within to create without and moving and extracting energies that are no longer serving our ancestral line, we can be reborn. Our symbol for March is Union and our guide is Parvati. Parvati is the goddess of family, fertility, marriage, and devotion. She's a symbol of divine strength and power, but also all-encompassing love and motherhood. Her appearance, name, and power take new forms depending on her emotions, and each form is worshipped as an individual goddess. Open your heart and let your relationship to yourself and others be healed by the frequencies of renewal.
You will receive the following:
Two (2) packets of herbs: Red sage root is protective and is frequently worked with to cleanse and clear spaces, as well as in healing rituals. Connected to the concept of immortality, it enhances longevity, wisdom, and wish fulfillment. Hydrangea root enhances friendship, devotion, and understanding. It's energetically detoxifying and known for its hex-breaking, love-drawing, and dream recall properties. Hydrangea is worked with in traditional Japanese herbal remedies and is an offering to the gods and goddesses. It creates a safe sense of boundaries and protection.
Two (2) drams of essential oil: Yarrow is a powerful and soothing herb, worked with for healing, relaxing, and purifying. Yarrow also provides you with clarity when faced with conflicting feelings, and is also effective in managing stress, restlessness, and sleep issues. Hyssop cleanses the aura, offering protection and healing. It's a cleansing herb that purifies your spirit and space, calms the mind, and stimulates creativity simultaneously.
One (1) 10 ml bottle of borage carrier oil to be used as the base of your handcrafted blend. Borage essential oil is filled with healthy fatty acids and is moisturizing, anti-aging, and uplifting. Also known as "Starflower," it aids psychic development and is a protective herb.
One (1) 10 ml blending jar to use with your carrier oil, essential oils, and herbs. This bottle can be used for any future spiritual work as well. Included is a blank label for naming your blend.
One (1) The APB aka "Ancestral Party Box" Crafting Kit. This kit comes with one (1) wooden box printed at SG with the Union symbol, one (1) small clear quartz skull, three (3) bags of assorted chip stones, and one (1) bag of rhinestones. Please gather your own photos, magazine clippings, and mementos to decorate the box.
One (1) meditation mat (about 6 feet, round). Custom-made for SG, this round cloth mat is printed with a rainbow mandala.
One (1) clear quartz pillar (about 4.5 x 2"). Hand-carved exclusively for SG, this pillar is engraved with the Angelofos Union symbol. Clear quartz has three major properties: Amplification, programmability, and magnification. It can be used to boost the energies of other stones and is ideal for crystal grids. Clear quartz activates the Soul Star Chakra, your connection to the stars and other dimensions.
One (1) spring altar cloth (about 12×12"). Featuring custom SG artwork, this cloth depicts a new springtime goddess.
One (1) 6oz Union Intention Candle. Hand-poured here at SG, this blue wax candle is infused with notes of lavender and white sage and topped with red sage and hydrangea root.
One (1) silver and aquamarine ring. This stunning piece is the HIGHLIGHT of the set! Depicting the union symbol, this adjustable ring is oxidized 925 silver with 14k gold around the stone. Aquamarine is a Throat Chakra gem connected to emotion. Sometimes referred to as the "water of the sea," it aligns to fish spirit and Pisces energy, and emotional healing. Aquamarine heightens creativity, imagination, intuition, and emotional depth. Comes with a storage bag.
This listing is for a monthly subscription to the Sage Goddess Soul Shift Tools. Each kit will arrive lovingly parceled along with a single leaf of white sage and cards describing the properties of the stones.
Blessings,
Athena
Note: Please always burn your candle on a heatproof stable surface, and never leave a burning candle unattended.
Warning: Essential oils are for external use only. Keep out of reach of children. Avoid direct contact with skin. If sensitivity occurs, discontinue use immediately. Consult your doctor before use on children, during pregnancy, while nursing or if using certain medications. May be flammable. The information provided is for educational use only. This product is not intended to diagnose, treat, cure, or prevent disease. This product is intended for aromatherapy use. For all other uses, dilute in carrier oil. Store tightly closed and away from direct sunlight.
Under California law (Proposition 65), we are required to inform you that because this item contains an agricultural product(s), it may also expose you to certain chemicals – natural or otherwise occurring, which are known to the State of California to cause cancer or birth defects or other reproductive harm. For more information go to: www.P65Warnings.ca.gov
~*~ ~*~ ~*~ ~*~ ~*~ ~*~ ~*~ ~*~ ~*~ ~*~ ~*~ ~*~ ~*~ ~*~~*~ ~*~ ~*~ ~*~ ~*~ ~*~ ~*~
Charge your tools with orgone energy on my custom Orgonite Charging Plate.
Anoint your crystals and gemstone jewelry with my SG Anointing Blend.
Want to learn more about gems, minerals, and crystal healing? Join our private Facebook group at www.facebook.com/groups/GemHaven
Want to learn more about perfume and aromatherapy? Join our private Facebook group at www.facebook.com/groups/SGPerfumery
Take a look at our previous offerings
January Tools: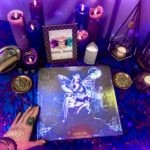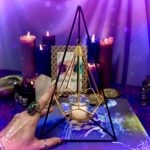 February Tools: