Description
Sage Goddess offers the world's most popular online metaphysical courses, and my 2020 programs are finally here! If you've dreamed of becoming a leader, a crystal healer, a ceremonial expert, and a master craftsperson of sacred tools, Sage Goddess Soul Shift is for you! I designed Soul Shift's weekly classes to help you explore your spirituality, expand your personal power, deepen your inner wisdom, and unlock joy, prosperity, and unlimited potential. Learn more here. 
We create a new set of sacred Soul Shift tools each month that will be available for purchase. This set combines all the necessary tools, amulets, medicines, and crafting materials you will need for the month's Soul Shift sessions. These tools vary from month to month and align with the month's theme. In addition, a second set of tools is available for the Crystal Masters monthly session. This smaller set contains all the crystals, stones and gems we'll work with during the monthly Crystal Masters class. We recommend that Soul Shift members subscribe to both sets to receive tools for Soul Shift AND Crystal Masters classes throughout the month. Click here to subscribe to your Crystal Masters tools.
All tools are voluntary, and not required for you to take part in either Soul Shift or Crystal Masters.
Once you have subscribed to your tools, you will be automatically billed on the 15th of every month. Please be aware that the bill date is not the ship date. Due to the high volume of orders, we ship in batches to be delivered in time for the first class the following month.
These tools accompany our Sage Goddess Soul Shift program. If you would like to join us, click here!
You will be charged for your first set of class tools as soon as you subscribe, and on the 15th of every month moving forward. 
HOW CLASS TOOL SUBSCRIPTIONS ARE BILLED
When you sign up for either the Soul Shift or Crystal Masters tool subscription, you are billed for your first kit immediately. Your subscription will then auto-renew on the 15th of every month. If you start your subscription before the 15th of a given month, you will skip the first payment because your immediate payment upon subscribing has already covered this amount.
You must start your subscription by the 14th of a given month to receive the following month's tools. 
The deeper magic of Sage Goddess Soul Shift Monthly Tools
About April 2020 Sage Goddess Soul Shift: Essence of Manifestation Kit
Birthing your Vision is the guiding theme of April's magical work, and it's the force that guides all that we move into this next month. In April, we'll explore quantum relationships and sacred reciprocity, activate Hermetic wisdom and principles, and address quantum entanglement and energetic cords. Our symbol for April is Creation and our guide is Hermes Trismegistus. Hermes Trismegistus, or "Thrice Greatest Hermes," or "Hermes Thrice-born," was the name given to the Egyptian god Thoth, once known as Jhuti – the god of learning, wisdom, and literature. He was the author of the books carried in the sacred processions of Egypt, records of ancient events and mysteries. Hermes is credited for writing 42 magical books and manuscripts and is regarded as the personification of Neo-Platonic philosophy, the mystical author of all wisdom and knowledge.
You will receive the following:
Two (2) packets of herbs: Angelica root is comforting, protective, and grounding. It enhances focus, strength, and stamina. Angelica root holds feminine energies and is used in healing mixtures and to induce inner visions. Egyptian basil is deeper and more robust and potent than its American counterpart. It brings love, protection, wealth, cheerfulness, integrity, and trust. Egyptian basil clears the mind, creates harmony, assisting in awakening, and illuminates the soul.
Two (2) drams of essential oil: Bay is a healing, protective, purifying oil used for clairvoyance and wisdom. It clears confusion, enhances creativity, and brings direction and inspiration. Bay helps you look forward, especially if you tend to dwell on the past. Labdanum is mysterious – sedating yet uplifting, and wonderful for meditation and contemplation. It has a glamorous, sexy essence, associated with solar deities and Venus. It's also protective and evokes courage and strength. Please note that this is not labdanum absolute, which would come as a solid resin that you'd be unable to work with.
One (1) 10 ml bottle of apricot kernel carrier oil to be used as the base of your handcrafted blend. Apricot kernel oil has a lipid content similar to that of your skin. When the skin's lipid content becomes too low, dry and irritated skin results. Topical application of apricot oil helps soothe and heal rough, damaged skin. The oil's fine texture allows more rapid skin penetration, which promotes prompt healing and nourishment of delicate or chapped skin. As an added benefit, apricot oil helps prevent and minimize the appearance of wrinkles.
One (1) 10 ml blending bottle to use with your carrier oil, essential oils, and herbs. This bottle can be used for any future spiritual work as well. Included is a blank label for naming your blend.
One (1) candle dressing magic crafting kit. This kit comes with four (4) single sheet beeswax candles (about 4") in pink, lavender, yellow, and aqua colors, and one (1) small bag of flowers including calendula, rose, hibiscus, and lavender. In the crafting session, students will "dress" these candles with the flowers to help bring light to whatever they choose to manifest.
One (1) manifestation gridding board (about 8"). Custom-made for SG with original Sage Goddess artwork, this MDF gridding board features a colorful mandala. Place your grid stones on it and candles around to create a beautiful and powerful energetic vortex.
One (1) clear quartz pillar. Hand-carved exclusively for SG, this pillar is engraved with the Angelofos Creation symbol. Clear quartz has three major properties: Amplification, programmability, and magnification. It can be used to boost the energies of other stones and is ideal for crystal grids. Clear quartz activates the Soul Star Chakra, your connection to the stars and other dimensions.
One (1) manifestation grid stone set, including four (4) Indian citrine spheres (about 1") for activating the Solar Plexus Chakra and bringing prosperity, money magic, and mental clarity. Spheres radiate energy in all directions – above, below, and toward all four sacred directions. Wherever you place yours, it will fill that entire space with its energy. Four (4) tumbled arfvedsonite (about 0.75"), the stone of attraction and major manifestation, to enhance creative visualization and facilitate the arrival of your desires. Four (4) clear quartz points for amplification and magnification.
One (1) .925 sterling silver lariat necklace. Custom-made with the Creation symbol, this necklace also includes two green aventurine beads with an adjustable .925 sterling silver chain. Green aventurine is a Heart Chakra stone of fertility, growth, abundance, good luck, and new ideas. It helps students and business ventures thrive. This necklace comes with a golden satin bag.
This listing is for a monthly subscription to the Sage Goddess Soul Shift Tools. Each kit will arrive lovingly parceled along with a single leaf of white sage and a parchment describing the properties of the stones.
Blessings,
Athena
Note: Please always burn your candles on a heatproof stable surface, and never leave a burning candle unattended.
Warning: Essential oils are for external use only. Keep out of reach of children. Avoid direct contact with skin. If sensitivity occurs, discontinue use immediately. Consult your doctor before use on children, during pregnancy, while nursing or if using certain medications. May be flammable. The information provided is for educational use only. This product is not intended to diagnose, treat, cure, or prevent disease. This product is intended for aromatherapy use. For all other uses, dilute in carrier oil. Store tightly closed and away from direct sunlight.
Under California law (Proposition 65), we are required to inform you that because this item contains an agricultural product(s), it may also expose you to certain chemicals – natural or otherwise occurring, which are known to the State of California to cause cancer or birth defects or other reproductive harm. For more information go to: www.P65Warnings.ca.gov
~*~ ~*~ ~*~ ~*~ ~*~ ~*~ ~*~ ~*~ ~*~ ~*~ ~*~ ~*~ ~*~ ~*~~*~ ~*~ ~*~ ~*~ ~*~ ~*~ ~*~
Charge your tools with orgone energy on my custom Orgonite Charging Plate.
Anoint your crystals and gemstone jewelry with my SG Anointing Blend.
Want to learn more about gems, minerals, and crystal healing? Join our private Facebook group at www.facebook.com/groups/GemHaven
Want to learn more about perfume and aromatherapy? Join our private Facebook group at www.facebook.com/groups/SGPerfumery
Take a look at our previous offerings
January Tools: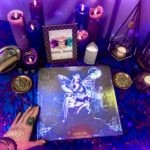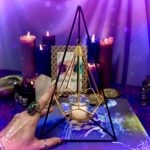 February Tools: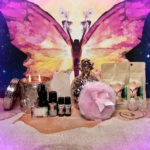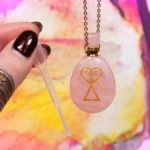 March Tools: