Description
Sage Goddess offers the world's most popular online metaphysical courses, and my 2020 programs are finally here! If you've dreamed of becoming a leader, a crystal healer, a ceremonial expert, and a master craftsperson of sacred tools, Sage Goddess Soul Shift is for you! I designed Soul Shift's weekly classes to help you explore your spirituality, expand your personal power, deepen your inner wisdom, and unlock joy, prosperity, and unlimited potential. Learn more here. 
We create a new set of sacred Soul Shift tools each month that will be available for purchase. This set combines all the necessary tools, amulets, medicines, and crafting materials you will need for the month's Soul Shift sessions. These tools vary from month to month and align with the month's theme. In addition, a second set of tools is available for the Crystal Masters monthly session. This smaller set contains all the crystals, stones and gems we'll work with during the monthly Crystal Masters class. We recommend that Soul Shift members subscribe to both sets to receive tools for Soul Shift AND Crystal Masters classes throughout the month. Click here to subscribe to your Crystal Masters tools.
You must subscribe before midnight on the 14th day of the previous month to receive your tools for the month. For those of you signing up in December or January, you will be able to purchase your January tools as a separate offering. Find this separate offering, here. From 1/14, you MUST subscribe to receive your tools.
All tools are voluntary, and not required for you to take part in either Soul Shift or Crystal Masters.
Once you have subscribed to your tools, you will be automatically billed on the 15th of every month. Please be aware that the bill date is not the ship date. Due to the high volume of orders, we ship in batches to be delivered in time for the first class the following month.
These tools accompany our Sage Goddess Soul Shift program. If you would like to join us, click here!
You will be charged for your first set of class tools as soon as you subscribe, and on the 15th of every month moving forward. 
The deeper magic of Sage Goddess Soul Shift Monthly Tools
About February 2020 Sage Goddess Soul Shift: Essence of Fire Kit
Emerging from Within is the guiding theme of February's magical work, and it's the force that guides all that we move into this next month. In February, we will begin to explore the forces that can move us into the deeper creative potential of fire. Love, sex, passion, and magic are our guides on this part of the journey, warming our hearts and bodies with the flames of desire. Our symbol for February is Love and our guides are Freyja, Mary Magdalene, and Morrigan. Freyja is the Norse goddess of love and war. She is gentle, beautiful, and seductive. Her love is boundless and she fiercely encourages self-worth as it relates to our beauty and sexuality. Mary Magdalene is the Divine Feminine counterpart to Jesus' Divine Masculine; it's believed that she was a healer in her own right. Morrigan is the Celtic witch goddess, known for her ability to shapeshift. She is believed to be the Lady of the Lake and is a triple goddess herself, with embodiments of maiden, mother, and crone. These figures embody the various energies of love and how we can express them in our lives. Open your heart and let your passion build in support of all you wish to birth in the year ahead.
You will receive the following:
Two (2) packets of herbs: Goldenrod represents the love of family and friendship and is associated with the element of air and the planet Venus. It attracts money and other prosperity, gifts of prophecy, and encouragement. Goldenrod supports you in your quest for love and calms the body and mind by releasing stagnant energy. Lady's Mantle represents motherly love and helps you let go of the past. It enhances courage, strength, and creativity by opening your energetic channels. Lady's Mantle connects you to your feminine energy and not only attracts love but increases self-love. It also improves fertility.
One (1) dram of Cassia essential oil: Cassia represents Eros, has aphrodisiac properties, and is associated not only with the Sun but the element of fire. As a Sun herb, it's effective in the consecration, protection, and development of psychic connections. Ancient Egyptians and Hebrews worked with it for anointing rituals and to raise spiritual vibrations.
One (1) 10 ml bottle of Amber essential oil: Amber represents universal love and is cleansing, protective, and purifying. It brings balance, harmony, and inspiration to your soul. Amber is regarded as a "fire stone or fire oil" and is associated with the Sun. It's often used in love rituals and can cleanse the entire chakra system.
One (1) 10 ml bottle of blackberry carrier oil to be used as the base of your handcrafted blend. Blackberry essential oil is very soothing to sensitive skin and a common ingredient in moisturizers and balms. It's a powerful prosperity herb and is frequently worked with for money magic. Blackberry is also very protective and helps in warding off negative energies and entities.
One (1) 10 ml blending jar to use with your carrier oil, essential oils, and herbs. This bottle can be used for any future spiritual work as well. Included is a blank label for naming your Essence blend.
You will also receive one (1) Crafting Kit of Honey Magic Kissing Dust. This is a "kissable" blend of herbs that are all skin and body safe. Lovingly packaged in a gorgeous pineapple jar with a pink poof, this blend contains honey powder, sugar, rose powder, lavender, and damiana.
One (1) Love Clear Quartz Pillar. Hand-carved exclusively for SG, this pillar is intricately cut with triangular facets. Clear quartz has three major properties: Amplification, programmability, and magnification. It can be used to boost the energies of other stones and is ideal for crystal grids. Clear quartz activates the Soul Star Chakra, your connection to the stars and other dimensions.
One (1) Love Rose Quartz Perfume Bottle Amulet. This rose quartz bottle is engraved with the Angelofos symbol. It can hold your special oil and perfume blends and can also be worn as sacred adornment. Rose quartz is a Heart Chakra gem of universal love and reciprocity. It opens and heals your heart, magnifies love, reawakens trust, and dissolves negative energies.
One (1) 6 oz Honey Magic Intention Candle. We've never offered a candle in this style before. It's encased in a beautiful jar embossed with flowers. Blended with amber and cassia oil and topped with pink glitter, lady's mantle, and sweet honey dust, each jar is infused with a carnelian chip stone for added creativity, courage, and optimism.
This listing is for a monthly subscription to the Sage Goddess Soul Shift Tools. Each kit will arrive lovingly parceled along with a single leaf of white sage and cards describing the properties of the stones.
Blessings,
Athena
Note: Please always burn your candle on a heatproof stable surface, and never leave a burning candle unattended.
Warning: Essential oils are for external use only. Keep out of reach of children. Avoid direct contact with skin. If sensitivity occurs, discontinue use immediately. Consult your doctor before use on children, during pregnancy, while nursing or if using certain medications. May be flammable. The information provided is for educational use only. This product is not intended to diagnose, treat, cure, or prevent disease. This product is intended for aromatherapy use. For all other uses, dilute in carrier oil. Store tightly closed and away from direct sunlight.
Under California law (Proposition 65), we are required to inform you that because this item contains an agricultural product(s), it may also expose you to certain chemicals – natural or otherwise occurring, which are known to the State of California to cause cancer or birth defects or other reproductive harm. For more information go to: www.P65Warnings.ca.gov
Take a look at our previous offerings:
January 2020: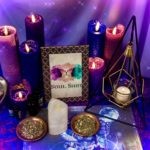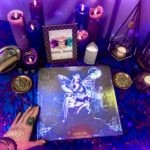 ~*~ ~*~ ~*~ ~*~ ~*~ ~*~ ~*~ ~*~ ~*~ ~*~ ~*~ ~*~ ~*~ ~*~~*~ ~*~ ~*~ ~*~ ~*~ ~*~ ~*~
Charge your tools with orgone energy on my custom Orgonite Charging Plate.
Anoint your crystals and gemstone jewelry with my SG Anointing Blend.
Want to learn more about gems, minerals, and crystal healing? Join our private Facebook group at www.facebook.com/groups/GemHaven
Want to learn more about perfume and aromatherapy? Join our private Facebook group at www.facebook.com/groups/SGPerfumery