Sage Goddess offers the world's most popular online metaphysical courses, and my 2021 programs are finally here! If you've dreamed of becoming a leader, a crystal healer, a ceremonial expert, and a master craftsperson of sacred tools, Sage Goddess Soul Shift is for you! I designed Soul Shift's weekly classes to help you explore your spirituality, expand your personal power, deepen your inner wisdom, and unlock joy, prosperity, and unlimited potential. In 2021 Soul Shift, we're working with alchemy. The first alchemists understood there was much more to this universe than could meet the human eyes. They studied ways of working with sacred geometry, frequency, vibration, and energy to transcend the third-dimensional state of reality. Their goal was total freedom from all constraints, whether those constraints were emotional, physical, spiritual, or mental. You can do the same for yourself. Start your inner transformation and sign up for Soul Shift Alchemize today!
We create a new set of sacred Soul Shift tools each month that will be available for purchase. This set combines all the necessary tools, amulets, medicines, and crafting materials you will need for the month's Soul Shift sessions. These tools vary from month to month and align with the month's theme. In addition, a second set of tools is available for the Crystal Masters monthly session. This smaller set contains all the crystals, stones and gems we'll work with during the monthly Crystal Masters class. We recommend that Soul Shift members subscribe to both sets to receive tools for Soul Shift AND Crystal Masters classes throughout the month. Click here to subscribe to your Crystal Masters tools.
All tools are voluntary, and not required for you to take part in either Soul Shift or Crystal Masters.
Once you have subscribed to your tools, you will be automatically billed on the 15th of every month. Please be aware that the bill date is not the ship date. Due to the high volume of orders, we ship in batches to be delivered in time for the first class the following month.
These tools accompany our Sage Goddess Soul Shift program. If you would like to join us, click here!
You will be charged for your first set of class tools as soon as you subscribe, and on the 15th of every month moving forward. 
HOW CLASS TOOL SUBSCRIPTIONS ARE BILLED
When you sign up for either the Soul Shift or Crystal Masters tool subscription, you are billed for your first kit immediately. Your subscription will then auto-renew on the 15th of every month. If you start your subscription before the 15th of a given month, you will skip the first payment because your immediate payment upon subscribing has already covered this amount.
You must start your subscription by the 14th of a given month to receive the following month's tools. 
The deeper magic of Sage Goddess Soul Shift Monthly Tools
About March 2021 Sage Goddess Soul Shift Alchemize Tools
In March, we're working with the second alchemical phase, "dissolution," where we gather the ashes of all we burned away during the previous calcination phase and metaphorically dissolve them in water. In this phase of immersion, we learn to "go with the flow" and explore passion, desire, and creative potential. "Know thyself by distinguishing between self and higher self" is a guiding theme of March's magical work. We'll be working with dimensions of consciousness, multidimensional healing, and the planet Uranus for authenticity and liberation. Uranus represents The Fool card in the Tarot – that "ground zero" where anything is possible. These tools will support your learning, application, and embodiment of March's teachings.
You will receive the following:
One (1) 8" glass chalice. This gorgeous glass chalice features golden and light blue floral details along the stem. It's perfect for spring (and wine 🙂 and comes with a box with our SG logo. Chalices have been used for centuries in rituals, rites, and religious ceremonies. Chalices have been a part of spiritual traditions and practices for a long time. They've served as symbols of status and have been used by kings and queens, priests and priestesses, and those who work with magic. In Wiccan traditions, the chalice is symbolic of the water element as well as the goddess' womb.
One (1) 15 ml bottle of Atman Energetic Elixir. Atman is a Sanskrit word that means spirit or soul – the true, eternal self. It's another way of saying higher self. This is a non-ingestible alcohol-based spray perfume blended with notes of blue tansy, palo santo, patchouli, and neroli. Blue tansy is one of the highest vibrational plants that elevates your personal frequency and opens your Third Eye Chakra. It's uplifting, soothing, and balances and calms the mind. Shamans have worked with palo santo medicine for thousands of years. It's clearing and healing, and the attraction to its fragrance is said to be a sign of spiritual and emotional purity. The aromatic quality of patchouli oil is said to be more powerful than any other essential oil obtained from plants. The essence of patchouli digs in deep. It helps to break long-held patterns of shame and low self-worth, inspiring balanced introspection and real self-love in turn. Neroli encourages overcoming fears with grace and positivity and will deepen your compassion, as well as forgiveness. It's also protective, especially of your spirit, uplifting it and helping you understand your heart's truest desires. This fragrance is infused with a fluorite chip stone to help reveal your life purpose and soul path.
One (1) 4 oz container of Dream Gemstone-Infused Incense. This beautiful and ethereal powdered incense is crafted with agrimony, brahmi leaf, valerian root, and white sage to help dip into the flow of the alchemical dissolution process. Agrimony corresponds to the element of air, is great for dream work, and balances emotions. It cleanses the auric field, encourages restful sleep, and builds a psychic shield by clearing negativity. Brahmi leaf eases stress and tension, enhances focus, and connects you with universal consciousness. Valerian root comes from the Latin word valere meaning "to be strong, healthy." Valerian root has been worked with for centuries and is extremely calming, easing stress and tension. It's also purifying, protective, and encourages self-acceptance. White sage is a sacred herb that's been used for centuries by elders to clear and consecrate space. The smoke of ceremonial white sage, in particular, is said to draw positive spirits and discourage the presence of any unwanted energy. Most people find the scent grounding and centering.
This incense comes in a shaker, making it easier to add dabs of incense offerings to your altar and charcoal disks. It's infused with a clear quartz point for amplification and magnification and fluorite and bloodstone chip stones for extra soul pathing and healing power. Don't forget charcoal disks to burn your incense powder.
One (1) snakeskin jasper four-directional transformation gridding/healing tool (about 2.5"). This special tool was created JUST for Soul Shift and it's super cool! It's a four-directional transformation gridding and healing tool with a unique cross-shape. This piece is carved from snakeskin jasper and was designed with points to send out energy to the four directions.
I count on snakeskin jasper in times of profound transformation. It's the totem stone of releasing what doesn't belong to you, freeing you of dead weight and heavy baggage. Like a snake that sheds its skin when it outgrows it, we too must shed what no longer serves us. Snakeskin jasper is a perfect companion for letting go of the past. As you grow and change, it activates and balances the Root Chakra, keeping you stable, grounded, and protected.
You will also receive a set of four (4) gemstones to honor the four directions and the Vernal Equinox:
The Vernal Equinox, or Ostara, marks the time of year when the sun crosses the equator, making the length of day equal to the length of night. This day is one of only two times of the year where night and day are precisely balanced – the wheel of the year is symbolically sliced in half. We celebrate the Vernal Equinox to honor this balance of light and dark. As we welcome in spring's energies of light, hope, fertility, growth, and new beginnings, we also recognize and give thanks for the solitude, self-reflection, and wisdom the darkness of winter so powerfully offered us.
One (1) tumbled yellow aventurine (about 0.5-1"). Yellow aventurine is a great stone to work with when you're ready to evolve, elevate, and expand. It resonates with and opens the Solar Plexus Chakra, boosting vitality, action, and confidence. Yellow aventurine brings you into the present moment, and inspires you to grow. It's also a powerful healer of the heart and spirit.
One (1) tumbled howlite (about 0.5-1"). With the ability to powerfully open and activate the Crown Chakra, howlite encourages a deeper sense of spiritual connection and wisdom. By inspiring calm and tactful communication, encouraging emotional expression, and expanding consciousness, howlite leads you down the road to true progress. This wonderful stone even calls in partnerships, alliances, and friendships to support you along the way.
One (1) tumbled red jasper (about 0.5-1"). Red jasper is a stone of regeneration that activates the Earth Star and Root Chakras. It's known as a warrior stone that brings courage. It works with your physical body to ground and connect you with the Earth while creating both stability and emotional balance in your life. A go-to healing stone, red jasper will help you find your groove and flow with greater ease and fortitude.
One (1) tumbled black obsidian (0.5-1"). Black obsidian activates the lower chakras, in particular the Root Chakra, and is a powerful stone of cleansing and healing. It forms a shield of protective energy that abates and absorbs negative frequencies and blocks any psychic attack attempts. Black obsidian creates a clear channel and space for you to move and flow without obstruction. It heals tears in the auric field, heals body, mind, and spirit, and clears your sacred space.
One (1) Golden Rolled Beeswax Intention Candle (about 4"). Candles are fire magic that transforms the room and mood. They also clear negativity, heal and purify. Candles help us see things in a different light. We love candles all year round at SG, and we love making them for you. This candle is hand-rolled with a golden sheet of beeswax and my Atman Energetic Elixir. It's also infused with a fluorite chip stone to help show you where you need to go, how to proceed, and where to seek guidance.
One (1) 8.5×11" canvas art. Work with this beautifully designed canvas as a mini altar mat. You can also put it in your 3-ring binder and use it as a divider to separate your class material. This canvas is an SG original artwork featuring Cleopatra, created by my very own team of talented designers to help you let go.
One (1) 5×7" sticker sheet. This SG custom-made sticker sheet includes keywords and designs that embody this month's teachings. It's perfect for journaling and using for class.
This listing is for a monthly subscription to the Sage Goddess Soul Shift Tools. Each kit will arrive lovingly parceled along with a single leaf of white sage and a parchment describing the properties of the stones.
Blessings,
Athena
Note: Always burn herbs and incense in a heat-proof burner, dish or bowl. We recommend using charcoal disks. Please always burn candles on a heatproof stable surface, and never leave a burning candle unattended.
Note: Atman Energetic Elixir is made with natural essential and carrier oils and may contain fragrance oils. Cap color, chip stone, and color may vary slightly. For external use only.
Under California law (Proposition 65), we are required to inform you that because this item contains an agricultural product(s), it may also expose you to certain chemicals – natural or otherwise occurring, which are known to the State of California to cause cancer or birth defects or other reproductive harm. For more information go to: www.P65Warnings.ca.gov
~*~ ~*~ ~*~ ~*~ ~*~ ~*~ ~*~ ~*~ ~*~ ~*~ ~*~ ~*~ ~*~ ~*~~*~ ~*~ ~*~ ~*~ ~*~ ~*~ 
Charge your tools with orgone energy on my custom Orgonite Charging Plate.
Anoint your crystals and gemstone jewelry with my SG Anointing Blend.
Want to learn more about gems, minerals, and crystal healing? Join our private Facebook group at www.facebook.com/groups/GemHaven
Want to learn more about perfume and aromatherapy? Join our private Facebook group at www.facebook.com/groups/SGPerfumery
Take a look at some of our previous offerings
September 2020 Tools: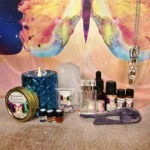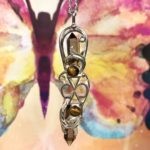 October 2020 Tools: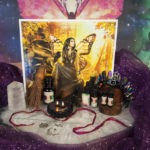 November 2020 Tools: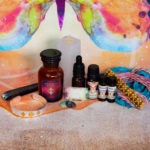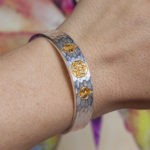 December 2020 Tools: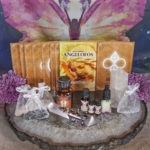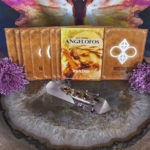 January 2021 Tools: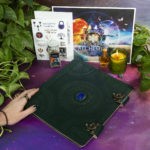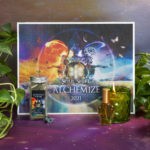 February 2021 Tools: