Pluto is the planet that represents our shadow – the vast, dark, and deep aspects of ourselves. If you look at your natal chart, you can see where your Pluto resides. This information is like a window into your psyche, revealing secrets you have kept from others, and at times, from yourself. But like all secrets, they will eventually be discovered, coming into the light. In your natal chart, the house Pluto is in reflects the nature of your shadow, and where you need to go deeper. This is called shadow work. Our shadow is the collective parts of us we repress: behaviors, patterns, compulsions, obsessions, and tendencies that keep us in the darkness. We all have a shadow. Our evolution greatly depends on the extent to which we acknowledge and work with our shadow. A great deal of magical work, especially of the shamanic variety, is about INTEGRATING our shadow with our light. Shadow can only harm us when it goes unacknowledged and hidden. Once acknowledged, it comes into the light, uniting us into greater wholeness.
Allow these Shadow Drams to help you reveal your secrets. May yours support you in confronting your full self, so that you may emerge as a more radiant you. And to learn more about integrating your shadow with your light, join me for my Of Light and Shadow Classes.
Click here to view Pluto's position by house, in your natal chart, to choose the Shadow Dram corresponding to the house your Pluto is in.
How to find your Pluto: Use the diagram below, as a guide, to help you navigate your natal chart (accessed by using the link above). Look for the Pluto glyph (looks somewhat like a capital "P") in your chart. Once you've found Pluto, look for the house your Pluto is in. The houses look like slices of a pie (with house numbers visible in the inner/center end of the pie pieces). The glyphs for the planets (including Pluto) are visible in the outer end of the pie pieces. Whichever "slice" your Pluto ("P") falls in, is the house of your natal Pluto.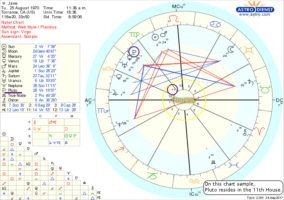 The deeper magic of these Shadow Drams
Choose between the following oil drams:
1st House (House of Self): Jasmine. Jasmine allows you to open your Third Eye and look deep within your subconscious.
2nd House (House of Value): Patchouli. Patchouli draws luck, success, abundance and wealth, but also grounds and connects you to the Earth.
3rd House (House of Communication): Purifying Salt. Salt is often used in purifying rituals. In order to open your Throat Chakra, first you must purify, before you can find the courage to speak profoundly.
4th House (House of Home): Redwood Resin. Redwood helps you put your life into perspective, which is why some people retreat "home" to get back on their feet in times of peril. "One cannot enter the redwood forest without stirring one's own sense of sacred."
5th House (House of Creativity): Blood Orange. Blood orange helps the flow of emotions and creativity. It's a multi-layered scent with great depth, yet it holds a very light energetic note.
6th House (House of Service and Health): Aloe. Aloe is a plant that can regenerate itself and continue to grow even during times of stress. It is one of the most widely used healing plants we have, dating back to Ancient Egypt.
7th House (House of Relationships): Sandalwood. Sandalwood is used often as an aphrodisiac. Sandalwood's strong, intoxicating scent never goes unnoticed.
8th House (House of Death and Regeneration): African Musk. Musk is associated with deities of the Underworld. It's mystical, and seductive, eluding to your darker side that isn't often shown.
9th House (House of Philosophy): English Ivy. Ivy represents the wandering of the soul, in search of truth and enlightenment. It carries with it, a warning –  be aware of your desires so that you avoid being ensnared by them. Be careful what you wish for.
10th House (House of Status): Amber & Vanilla. Amber is grounding, and a scent of strength. Vanilla is pure status – sacred, and often sold in small amounts due to its pure and potent nature. These two scents are highly regarded on their own, and when fused together, they are a powerhouse.
11th House (House of Community): Teak. Teakwood is considered a holy wood in many cultures. It is said to have nature spirits dwelling within it, and is also known to emit spirits, as well as good energy, bringing communities together in worship of this sacred wood. The robust structure of teakwood is said to stimulate growth.
12th House (House of Hidden Self): Violet. Violets inspire and enhance psychic ability, and spiritual enlightenment, while keeping you grounded. Violets are not light flowers. Their deep and dark notes have the ability to draw out your hidden self.
This listing is for one (1) Shadow Dram. Choose the house your Pluto resides in from the drop-down menu above, for a custom offering.  Yours will arrive lovingly parceled for your enjoyment and delight.
Blessings,
Athena
~*~ ~*~ ~*~ ~*~ ~*~ ~*~ ~*~ ~*~ ~*~ ~*~ ~*~ ~*~ ~*~ ~*~~*~ ~*~ ~*~ ~*~ ~*~ ~*~ ~*~
Charge your tools with orgone energy on my custom Orgonite Charging Plate.
Anoint your crystals and gemstone jewelry with my SG Anointing Blend.
Want to learn more about gems, minerals, and crystal healing? Join our private Facebook group at www.facebook.com/groups/GemHaven
Want to learn more about perfume and aromatherapy? Join our private Facebook group at www.facebook.com/groups/SGPerfumery