Welcome to the latest edition of The Weekly Sage, an outward and inward look at the week to come. So many of us use Tarot, astrology, and contemplative journaling to support ourselves and each other. We hope this little weekly blog will inspire all of us to think, feel, and transform in bigger ways together. May it unite us by collectively magnifying our personal intentions into a potent source of positive energy, that will spread into our communities and beyond.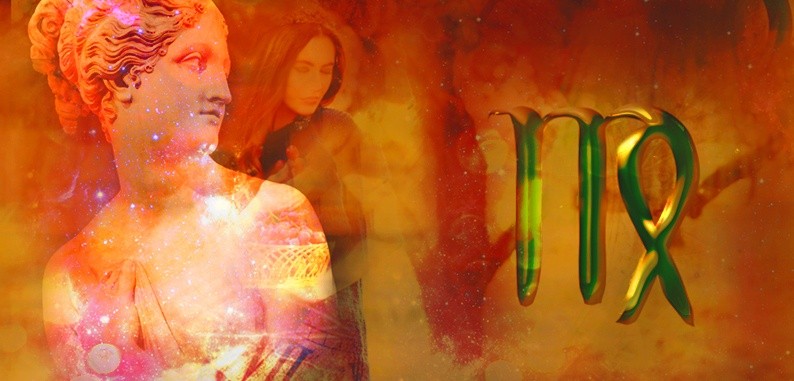 Astrology
Our need for perfection will increase when Venus enters Virgo on July 9. Venus wants to feel comfortable and in the sign of Virgo, she feels best when she's getting her work done and making everything a little bit better. At its fullest, healthiest expression, Venus in Virgo is the art of perfection. Not perfection that focuses on flaws, but the process of continuous improvement that creates beautifully refined works of art. When it comes to relationships – Venus' domain, Virgo infuses us with the desire to give and receive through acts of service. Learn or implement new techniques and tools that bring healing, especially using your hands.
After four months of retrograde, Jupiter turns direct on July 10. Did you spend time revisiting and reclaiming what you truly believe in? It's time to move forward as a living example of your life philosophy. If you spent the past few months reconsidering how to tap into and trust your intuition, you're ready to proceed on your path with renewed confidence in those things you just "know" in the moment. When Jupiter turns direct, we're all supported in going bigger with whatever has real meaning to us and elevates humanity to new levels of consciousness.
What will you wish for this Cancer New Moon on July 12? Setting new intentions to meet your own needs with self-care, to create a strong sense of belonging and a true home fall in Cancer's domain. Cancer energy, at its best, feels at home and creates the security and comfort of home wherever it goes. When this part of us is flourishing, our environment grows. Because we honor and accept our own range of emotions, we can hold space for others with theirs. This is the perfect time to come out of the metaphorical water and step onto the land, symbolizing the actualization of yourself as a person with a place in the world. The instinct to retreat back into the shell or womb of protection can be fierce. Sometimes, our grandest aspirations are completely attainable if we first create our own special version of a security blanket or favorite stuffed animal. A dependable safe and soft place to land whenever you need it might be the only step before you shoot for the moon.
Join us as we initiate the cycle of manifestation, filled with inspiration and creativity, during this new moon! RSVP here for our online new moon event.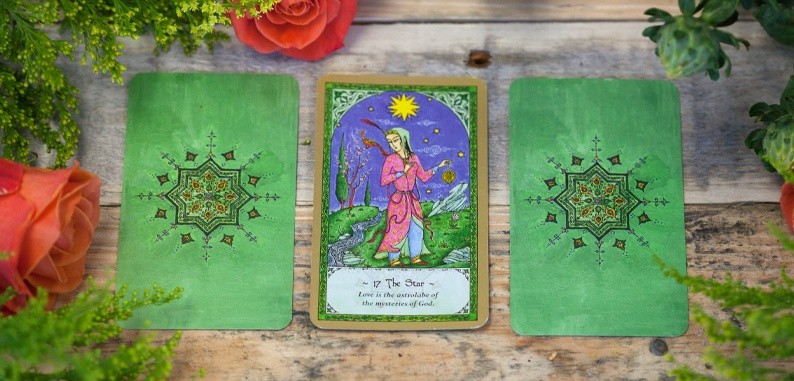 Weekly Tarot
As we journey through A World of Magic this year, we are choosing a variety of Tarot and oracle decks for The Weekly Sage, as they correspond with the civilizations we explore. This edition, we are using The Rumi Tarot by Nigel Jackson to embrace the magic of ancient Persia.
The Star comes forward today, for all of us, representing serene tranquility, stillness, hope, and inspiration. In life, when we break free from the bondage of our own personal entrapments, be they material, physical, emotional, or ego, we often find the very connection we sought in all the seemingly wrong places. We are struck by light in our fortresses of ego and pride, and we fall to a place of Divine connection to Source. This place is where we discover a new faith in ourselves and All That Is. We see this peaceful serenity depicted in The Star card. You see in this card a naked woman; she is stripped of all material defenses and disguises, as we are once we free ourselves from our prisons. She is naturally and wholly herself in all her inherent Divine glory. The stars twinkling in the sky above represent hope and inspiration. The Star is a small glimpse into The Fool's own inner nirvana and connection.
Negative energies are no longer in existence – they have been replaced by trust and faith. When you receive The Star Tarot card, it is a reminder of a specific time and place in your life right now – a place of enlightenment, immersed in supreme joy. I encourage you to share this joy with the rest of the world! This feeling is exactly what many of the ancient traditions found across Buddhist, Yogic, and Hindu practices strive for. This is the place where the heart opens wide for the first time, and the Divine river of love flows unobstructed out of The Fool. As it is for any of us the first time we taste this blissfully peaceful state, this is a truly magical moment for you on your journey.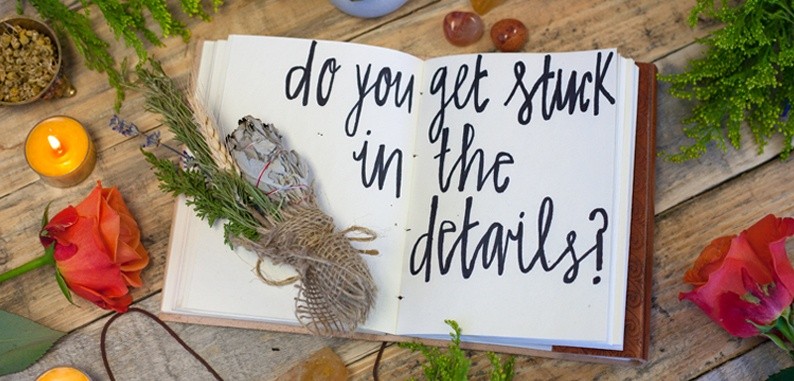 Weekly Journal
Do you get stuck in the details? In the pursuit of perfection, people often drown in details – in relationships, careers, and miscellaneous activities. When you get stuck on details, you start second-guessing yourself and your life begins to plateau. You lose the big picture. If you're looking for a flaw, you will always find it. If you're looking for a way out, the door will always be open. And if you're looking for a reason not to love something or someone anymore, a solution will always present itself to you. Sometimes you can get so caught up in making sure that everything is perfect that you lose sight of why you started on that path to begin with. And that begins, with fear of failure. Oscar Wilde once said, "each man kills the thing he loves." You will grow tired of anything if you pay a vigorous amount of attention to it, and the love will disappear if it's constantly under the microscope. It's important to always follow the bigger picture and give love room to grow. When you hold on too tightly or scrutinize every detail, it's harder for love to flourish.

Big Question