Welcome to the latest edition of the Weekly Sage, an outward and inward look at the week to come. So many of us use Tarot, astrology, and contemplative journaling to support ourselves and each other. We hope this little weekly blog will inspire all of us to think, feel, and transform in bigger ways together. May it unite us by collectively magnifying our personal intentions into a potent resource of positive energy, that will spread into our communities and beyond.
We are so excited here at Sage Goddess about all the magic coming our way! We have celebrations coming up that you can attend no matter where you live, including our live (virtual and in-person) Samhain event on October 30 (RSVP on our online and in-person event pages). Bring a friend! Everyone who brings a guest to this month's celebrations will receive a special gift from us.
With November around the corner, we hope you'll join us for our live (virtual and in-person) Full Moon celebration on November 3, as we honor Fortuna and Inari. We will also be honoring the completion of cycles in our own lives, and celebrating what has been, as well as what will be. I hope you are continuing to enjoy the magic of this season, my loves.


Astrology – The sweetness of indulgence
Full Moon in Taurus at 10:22pm PST on November 3rd, will encourage us to recognize and enjoy the simple pleasures in life. Full Moon energy is all about receiving the manifestation of intentions set forth at the New Moon and bringing them to full realization. It is a time to celebrate progress toward your goals. Full Moon also represents the peak of emotion and instinct, and with awareness, you can channel your emotional strength and intuition for the Highest Good. Moon magic is a deep and mysterious realm, one which consists of many intentions and purposes.
Perhaps beyond any other sign, Taurus knows how to enjoy the sensual experiences in life – relishing in delicious tastes, smells, sounds, sights, and touch. The Full Moon combined with The Bull's energy inspires us to indulge in our senses and delights, and ground ourselves in the moment – embracing the stimulation of feeling alive. Taurus is the sign of self-worth, essential needs, and value, encouraging us to choose what truly matters and hold steadfast to what we know and trust.
Taurus is the inward expression of Venus, and the nature of its energy is rooted in the need for self-sufficiency, simplicity, self-love, and survival. Taureans are often disturbed by sudden changes as their nature tends to prefer stability, comfort, and security. Taurus can be stubborn, and attached to proving its own value, often through accumulation of material resources. The Taurean reputation for laziness comes from its refusal to put energy into anything it finds lacking in value, quality, or purpose. Otherwise, Taurus will work with determination to meet its needs. This Full Moon may shed light on your attachment to creature comforts and material means, and the potential for stagnation and inertia, if you hoard them too tightly.
Sometimes, we can become fixated on our own inner spiritual development and overcomplicate things, losing touch with our physicality.  Taurus helps us remember the richness of possibility in the human body and of the Earth. It's time to shine a light on your own Taurean energy – slow down to enjoy your moment, reconnect with nature, feel your feet rooted into Mother Earth, and embody yourself. After Samhain, it's important to ground yourself once again. What do you value? What has meaning in your life? Are you using your resources to manifest more of these things?
Taurus is also the most powerful sign, of all in the zodiac, in manifesting, attracting, and managing money. Survival is very important to Taurus – constantly focused on having enough. This is without question the one night of the year to reap your sacred intentions for abundance and prosperity initiated at our New Moon/Diwali celebration.
Join us for our live (virtual and in-person) Full Moon celebration on November 3rd, at 6 PM as we honor Fortuna and Inari, and share in the joy of receiving the manifestation of our intentions.


Weekly Tarot
The Magician Tarot card comes forward today, for all of us. The Magician is, in a sense, the polar opposite of The Fool. The Magician represents power, skill, communication and the utilization of tools. The Fool has nothing but his adventurous spirit, whereas The Magician has many tools before him to aid his pursuits. He is shown standing at a table laden with treasures. He raises in his right hand a wand, while his left hand points towards the Earth. This famous posture can be interpreted in many ways, but symbolizes the gift The Magician possesses as a channel between Heaven and Earth. The first lesson The Fool learns on his journey is how to use the tools he will encounter along the way. When The Magician appears in a reading, it invites us to explore what it means to apply this lesson to our own lives; how to use the sacred tools we are offered, but may yet be unsure how to use.


Weekly Journal – Intuition and Logic
I believe magic exists in all of us. We have our own powers, our own skills, and our own abilities. The strength of these qualities lies in the confidence you give your inner voice – your intuition. No skill is identical to another. Some mediums read auras by visualizing the color of a person's energy, radiating all around them. Some, taste the color of that energy, and others feel it in their being. These are just some examples of how people are able to tap into their intuition and harness their power. But these gifts might not activate or flow if those mediums were to question themselves, or compare and judge themselves against one another. Our intuition outweighs any comparison. We all have our own strengths that make us unique. Have you ever wondered if you were psychic? Have you ever had an inexplicable hunch toward someone, or a particular skill, that you couldn't explain? Ever wonder where all of that comes from? Have you ever had psychic visions? Check out my interview  with Elite Daily, as we delve into the basics of harnessing your clairvoyant skills.

Big Question: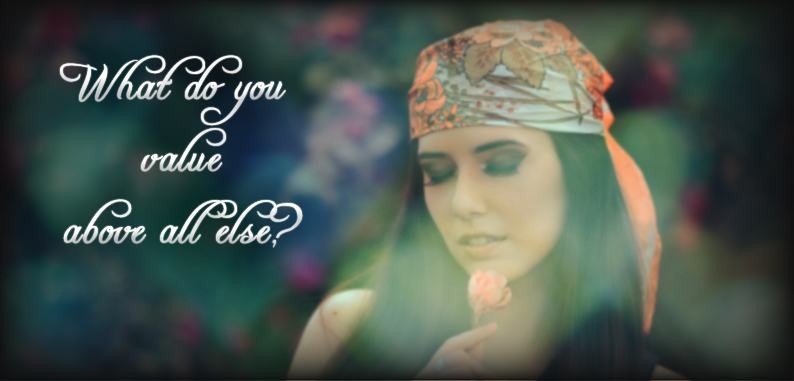 I love and encourage all magical feedback from my readers, my loves! However I do not regularly moderate comments on the Sage Goddess blogs. So if you have a specific question or query that you'd like us to answer, please contact us via our Facebook page or email magic@sagegoddess.com.