Welcome to the latest edition of The Weekly Sage, an outward and inward look at the week to come. So many of us use Tarot, astrology, and contemplative journaling to support ourselves and each other. We hope this little weekly blog will inspire all of us to think, feel, and transform in bigger ways together. May it unite us by collectively magnifying our personal intentions into a potent source of positive energy, that will spread into our communities and beyond.
Find your light! The first full month of summer begins tomorrow in the northern hemisphere, immersing us in the season of Fire. The element of fire is warming, crackling, blazing, illuminating, and inspiring. Fiery energy is passionate, excitable, creative, and bold. It represents life force itself and light of Spirit. We associate summer with the Sun and we bask in its rays at the beach, on patios, and with our windows open. The Sun, the great ball of fire, infuses us with its vitality and instills a special sense of purpose. The light beckons the light and we are called to come out and play, perhaps more this time of year than any other.
In the United States, we celebrate our independence on the 4th of July with fireworks. Many of us remember running around with sparklers – drawing shapes in the air with their magical light. The Sun and element of Fire remind us that we are that magical light – we are each an eternal sparkler and we are meant to shine! How are you using and sharing your personal radiance? How are you expressing the Divine within you? This is the time to renew our minds and awaken to the opportunity to become channels of Light. Just as fruits are reaching their ripeness in nature, you are ready to express a fuller version of you.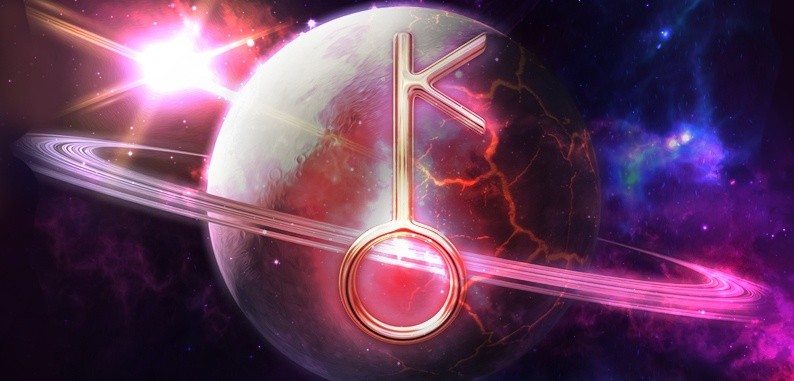 Astrology
On the night of July 4, Chiron, the planet known as the Wounded Healer, turns retrograde until December. As a part of our psyche, Chiron represents the ways we feel separate from everything and everyone else and somehow broken or fundamentally inadequate. On the flip side, Chiron also represents our special gifts of healing and the potential for bringing our "medicine" to humanity. With Chiron, we learn that the "medicine is in the wound" and if we are brave enough to expose our sense of woundedness with compassion and self-love, we are finally open to receive the cure. The cure doesn't necessarily make us "perfect", but it makes us more whole and able to act with a new sense of strength and confidence.
When any planet turns retrograde, we are energetically encouraged to redefine, reclaim, or rework something. Are you intimate with your perceived weaknesses? If you've been overcompensating to hide your insecurity or avoiding something altogether because you think you can't do it, start by rewriting the story you keep telling yourself. To really re-frame this part of your life, you'll have to engage it – test it out. Give yourself the permission you would a child. The goal is not to be the expert or even proficient. Aim to be honest, innocent, and curious to see what happens if you let go of your expectations and measures. This is our call to be vulnerable and open our hearts to places and parts of us we have kept a tight clamp on for years – maybe lifetimes.
Chiron demands we approach ourselves and all of life with an open heart. Yes, this work can hurt – being human hurts. To embrace the Chiron within you is to embrace your humanity and all its imperfections. Japanese wabi-sabi is a worldview that sees perfection in the imperfection as beauty. Are you willing to share your authentic beauty with others and not run away from things that trigger your feelings of inferiority? Will you use this time to develop a new relationship with your fears, flaws, and the very things that make you the most uncomfortable about yourself? You have no idea how much this action will heal you and the entire world around you.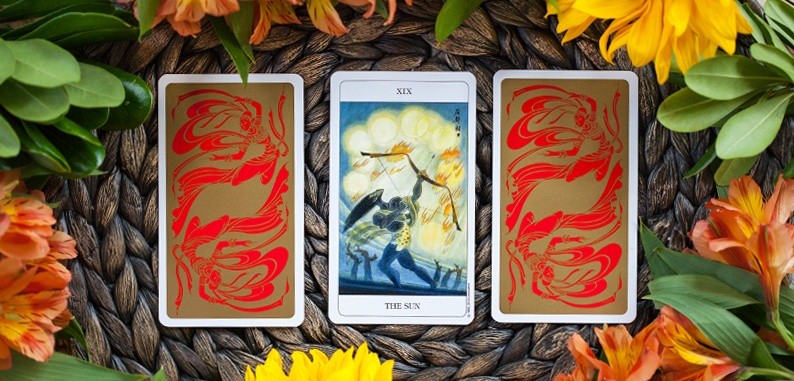 Weekly Tarot
As we journey through A World of Magic this year, we are choosing a variety of Tarot and oracle decks for The Weekly Sage, as they correspond with the civilizations we explore. This edition, we are using The Chinese Tarot Deck by Jui Guoliang to embrace the magic of ancient China.
The Sun card comes forward today, for all of us, representing our inner light radiating for the world to feel and see. Just as the Sun in our sky rises and illuminates the world with love and warmth, this card also shines with the excitement of new beginnings. The Sun card represents potent expressive creative energy, and reconnects us with the power and joy of co-creation. And just like that image you have in your head whenever you think of the Sun, this card reminds you to enjoy the moment today, and in the upcoming week. It reminds us to be happy with ourselves, and to be thankful, because when we shine on the inside, it is reflective in our eyes, our face, and our energy. When the Sun card appears in a reading, it assures us we are on the right track. Hold onto that light! Doing so will ensure success in ways you can't imagine.

Weekly Journal
How do you incorporate magic in your everyday life? When I think of magic, I think about the intention and energy I put behind my creations. I think about the relationship I maintain with my loved ones, and the new relationships I cultivate daily. Magic exists within everyone and it materializes in their pursuits. And most importantly, it exists in the fifth element – love. For example, a chef creates magic with food – anyone can follow a recipe down to the last teaspoon, but it is the passion behind the intention of every ingredient that makes it extraordinary. A photographer's eye holds the magic of their subject, and a writer with their words. Magic is in the eye of the beholder, and when you are aware of your talents, and you use them for your Higher Good, you create magic. Real magic.

Big Question