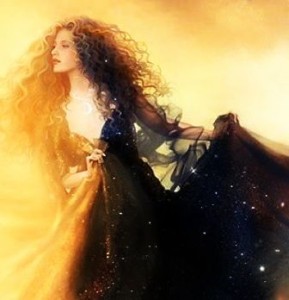 The Magical Sabbatical is an experiential online program designed to facilitate women's spiritual growth and leadership skills, an online sisterhood that gathers to develop their spiritual practices in sacred ways that bring them closer to the Earth, to magic, to history and mystery, to women's traditions, and most importantly, to themselves. This winter, our theme is Faith and we'll be honoring this season of rest by exploring the ways our faith can be deepened, reimagined, and cultivated. Among our topics of learning and discussion will be our connection to the five forces of nature (fire, earth, air, water, and spirit) as well as our relationship to our Creator. We will explore the various Source energy relationships of different spiritual traditions in order to bring our collective closer to a sense of divine union.
SO WHAT IS THE SABBATICAL?
There are other spiritual groups out there, but we're different: Our focus is the Wheel of the Year, and each month we honor the magic of that month including the history, lore, ancient wisdom, ritual practices, moon phases, gem and crystal correspondences, and seasonal practices (solstices and equinoxes). I have 25 years of training, expertise, and experience as a high priestess and holder of sacred space for men and women from around the world. Students in all of my groups benefit from my journeys and explorations of cross-continental spiritual paths and traditions. We gather live for sacred crafting and ritual, and in our private classroom Sabbatical members have access to additional videos, guided meditations, and written content designed to inspire creative experimentation. We make tools to beautify our spaces and delight our senses; we gather on Facebook in a secret group to develop and deepen our relationships with each other; and most of all, we have a hell of a lot of fun together. We take our work very seriously and then not seriously, all at once. We revel in paradox, play, and boundary-less exploration.
No subject is off limits in the Magical Sabbatical. We talk about and practice ancient wisdom related to the BIG issues: Sex, sexuality, parenting, marriage and partnership, divorce, intimacy, friendship, employment, energetic boundaries. But we also discuss more mundane subjects like magical gardening, homekeeping, and altarscaping to bring abundance and well being into our sacred spaces. You will learn, grow, and love deeply through this experience. I hope you can join us.
Registration is open year-round.
No previous experience with magic or spirituality is necessary – come as you are.
Women of all ages are welcome.
Enroll now in Sabbatical, or learn more about my Circle and Pentacle programs.
Summer 2015 Magical Sabbatical begins July 7 and registration is open. Below is the schedule of teachings and events for July 2015**: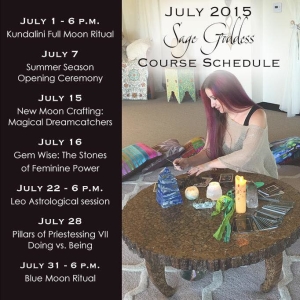 **Please note that Sabbatical is a year-round, ongoing program. This schedule represents a window of activities and meetings but members are welcome to register any time. All sessions are recorded for later viewing.