August Sabbatical 2018 Purchase
Sabbatical Elder Council – Aug. 23, 5:00 PM PDT
Magic of Tibet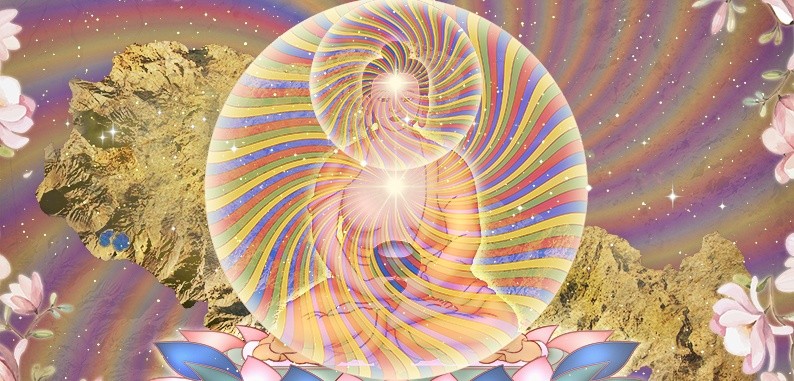 A phenomenon was born in ancient Tibet that changed the definition of enlightenment forever. The Vajrayana Buddhists of Tibet practice Dzogchen – ancient teachings and practices that help the seeker reach enlightenment. Most religious and spiritual traditions are based on the belief that the mind and soul of a human is separate from the body. However, the Vajrayana Buddhists of Tibet believe that the human body is part of the cosmic whole that is made up of five elements: space, air, fire, water, and earth. They believe the body has bathed and evolved in light for billions of years, and when your body reaches peak enlightenment, it reunites with the whole and reflects the colors of the rainbow. This is what is called a Rainbow Body.
The Rainbow Body is usually reached at the time of death when the physical body shrinks and transforms into pure light. It is rumored that once you have reached this point, your body doesn't smell of decomposition, but of perfume. The Tibetan Buddhists also believe that Jesus attained a Rainbow Body before death, and when he resurrected, he transformed into the beauty and light of the rainbow – that is why his body was not found after burial. It takes an exceptional practitioner to obtain a functional Rainbow Body with the ability to exist wherever and whenever their heart desires.
Maintaining a Rainbow Body is only achieved through the practice of Dzogchen. Reaching this state of enlightenment only occurs when one reaches a pure, untarnished state. It means having pure compassion and empathy for others – to leave behind the material wealth that will cause suffering and damage to the soul. It means, most of all, to transform into a realized being, having achieved oneness with the Universe. When you reach a functional Rainbow Body, your spirit with bathe in bliss and happiness, and your aura will reflect the rainbow.
Discussion Question: Do you know what color your aura is now?
Ritual
This ritual is intended to help transform your body into its rainbow state. Even though peak enlightenment is not accomplished by just one ritual, I will give you the tools you need to achieve your Rainbow Body through repetitive practice.
First, burn white sage to lift the room, inviting in only the pure, positive vibrations. All ritual must always begin by removing any negative vibrations from your space. With your eyes closed, stay in the connected beam of colorful light while also being mindful and present.
Anoint yourself with my Rainbow Perfume, created with notes that help you capture the pure essence of the Rainbow Body.
Allow your Rainbow Candle to serve as your centerpiece. Place the chakra stones around yourself as you sit in front of your candle. Then, light your candle, come into present time, take three deep cleansing breaths, and visualize your body coming into straight and right alignment. Really imagine your connection to Spirit, your inner knowing, your honest truth, your emotions, your power, your creations, your safety, and connection to Earth. As you focus on each chakra, send healing light to that space. It's important to stay present with every step – to take in all the beauty that surrounds you. When all of your chakras feel attended, aligned, and held, you can open your eyes.

Discussion Question: Have you ever surrounded yourself with stones in meditation?

Magic of Tibet –Rainbow Body Transfiguration Set 

This set is filled with tools intentionally chosen to help you experience your Rainbow Body as part of the cosmic whole.

I chose blue tansy, blue lotus, Himalayan cedarwood, and other attars and oils of the Tibetan region for my Rainbow Perfume. Anoint yourself, your candle, and your stones with this blend to capture the magic of the Rainbow Body. Your bottle of perfume has been infused with chip stones that correspond with each chakra: clear quartz, amethyst, sodalite, chrysocolla, rose quartz, tigers eye, carnelian, red jasper, and obsidian.
Blue tansy harmonizes the body, mind, emotions, and spirit. The essence of the blue lotus flower offers access to the gods and to secret wisdom. Working with cedarwood helps promote fertility, center your spirit, connect with your ancestors, and tap into your innermost wisdom – the wisdom that resonates with the sacred truths of the Earth.
Use the Rainbow Body Candle in this set – which is hand-poured with lavender soy wax and blended with my Rainbow Body Perfume – to invoke the purest aspects of your spirit.
Your stone trio includes one tumbled rainbow moonstone, one natural fire opal, one rainbow aura obsidian palm stone, and one tumbled pink calcite. This set is intended for use during ritual. The palm stone, in particular, is to be used as an energetic soap bar to cleanse your aura.
Rainbow moonstone is the prism stone – it contains the entire rainbow within it, and thus holds all seven energetic rays of light. This brilliant stone enhances your unique natural splendor, permeating your light body and radiating the energies of all things beautiful.
Fire opal is the stone for awakening passion and creativity. This gem enhances the intensity and pleasure of experiences and can ease inhibitions to allow for better enjoyment.
Rainbow aura obsidian possesses a lovely prismatic sheen. Powerful and supportive, this gem brings love and light to your life, cradles you during life's storms and strengthens you through the process.
Pink calcite enhances the flow of energy from the Crown Chakra into the Heart Chakra, helping you fully comprehend the concepts of universal and unconditional love.
Place your SG canvas art on your altar and use your stone set to place around you in a circle as you are guided into meditation during class. Your stone set corresponds with each chakra – violet agate for Crown, lapis lazuli for Third Eye, amazonite for Throat, green aventurine for Heart, tiger's eye for Solar Plexus, carnelian for Sacral, and brecciated jasper for Root.
Discussion Question: Which powerful stone are you most excited to work with?
MAGICAL SABBATICAL 2018 RETREAT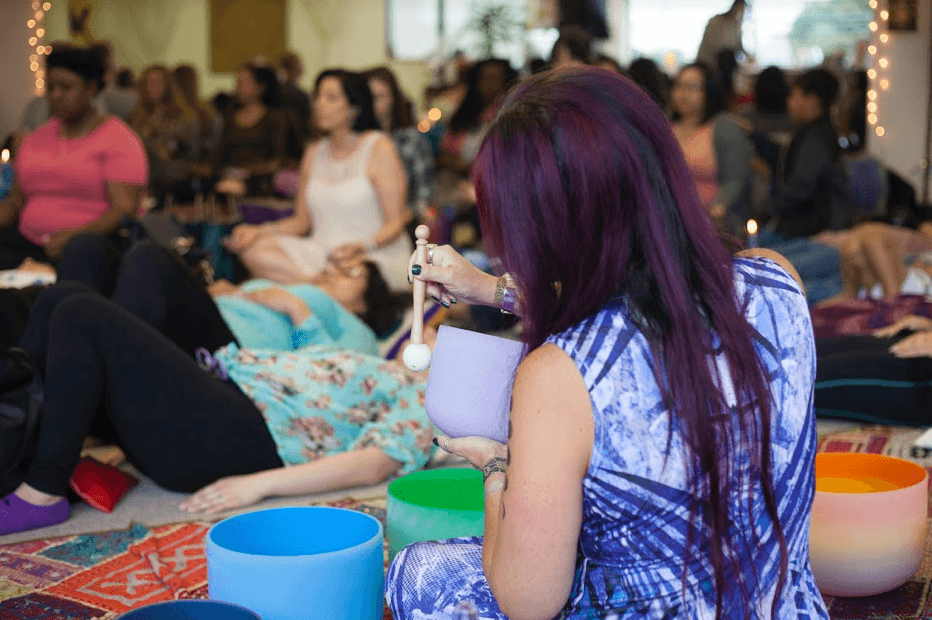 IMPORTANT: DO NOT BOOK TRAVEL UNTIL YOU RECEIVE WRITTEN CONFIRMATION FROM SAGE GODDESS.
Sisters – We have been journeying through A World of Magic this year, and many of you have been with me for much longer. Together, we activate and integrate magic in ritual and in our daily lives. We support each other with open hearts and allow ourselves to be seen. Our divine sisterhood is sacred to me, and I'm so thankful for each of you and how you hold this space with me in meditation, discussion, prayer, and intention. We get real and we go deep! In light and shadow, laughter and hard times, we hold each other steady and lift each other's spirits. Our virtual connection is powerful, but there's something extra special about being together in the same physical space. This is our time to step away from day-to-day existence and retreat into soul exploration, Elder Council, drum circle, and so much more. I'm so excited to share this experience with you!
This retreat will be held October 25 and 26 at Sage Goddess HQ.
Attendance is limited to 75 people who must have an active Sabbatical membership now, and uninterrupted through the dates of the event. Friends and family are welcome to travel with attendees and attend public SG events (space permitting), but only registered attendees will be allowed to attend and participate in retreat functions.
The first 75 people to register will have secured attendance. Tickets will be on sale through Eventbrite with no additional fees starting July 9 at 11 am PDT. A waitlist will be provided for those who do not secure a ticket to this event. If you do secure a ticket but will be unable to attend, please contact [email protected] so we can offer your ticket to the person at the top of the waitlist. Those on the waitlist will receive priority for spots that open up due to cancellation.
Once you have secured your ticket from Eventbrite, retreat paperwork will be sent to you. Once you have correctly completed this and returned it to us, we will confirm your spot at the event.  Please do not make travel arrangements until we have confirmed your attendance at the retreat.
Tickets are not transferable. Sage Goddess assumes no liability for attendees at events and all attendees will be required to sign a waiver prior to attending.
This retreat will be held at SG Headquarters, but does not include room and board. Recommendations will be provided for travel and hotel accommodations on July 16. Some food may be provided at this event, but each attendee will be responsible for his/her regular meals.
Retreat Agenda:
Thursday, October 25
10 am – Welcome
10am – 5pm – Sabbatical Retreat Activities, tbd
5 pm – Public SG Full Moon Event
Friday, October 26
10 am – Elder Council
11am – 4pm – Sabbatical Retreat Activities, tbd
4pm – Closing exercise
FAQs
What are my transportation/parking options for getting to and from the event?
This event is located at Sage Goddess HQ in Torrance, CA. We are located on a commercial lot with plenty of free parking. Uber and Lyft are also very popular rideshare options.
What can I bring into the event?
You may bring your stones, candles, perfumes, smudging tools – all the things to create your altar. Remeber to dress comfortably and be prepared to remove your shoes before entering our ritual space.
How can I contact the organizer with any questions?
If you have any questions please reach out by emailing [email protected]
Is my registration fee or ticket transferrable?
Tickets are not transferable. If you realize that you are unable to attend after securing your ticket, please contact [email protected] so that we can offer your ticket to the person on top of the waitlist.
Things to do in the area:
Entertainment:
Restaurants:
Breweries: