When you fully receive the gifts of each moment, and the beauty in all that surrounds you, life gives you more of these very things, and so much more. Gratitude is more than a simple, "Thank you"; it is the powerful opening of your heart to receive your blessings. And the more you open to receive, the more your blessings abound. It is no secret that what you send out into the Universe comes back to you, in equal proportion, creating a snowball effect, collecting more and more substance and momentum. When you feel and express gratitude for something, you honor, emanate, and magnetize it. In a profoundly beautiful way, your thankfulness is the affirmation of life, creation, and creator.
The Universe wants to bestow blessings upon you – it's filled with blessings for you. Nature delights in the joy of being received, just as each of us longs to be loved, received and appreciated. If you offer someone compassion, a helping hand, or a home cooked meal, it is hollow without genuine acceptance. And acceptance goes beyond the offering – it translates into the acceptance of our interconnectedness, inherent value, and united Spirit. Imagine a golden glowing sphere of love, grace, and abundance spinning in our solar system. This radiating body is alive with gratitude and grows with our thankfulness – every prayer, heartfelt moment, second of acknowledgment, and authentic praise makes a difference, raises the vibration, and releases a magical shower of shimmering light upon us all.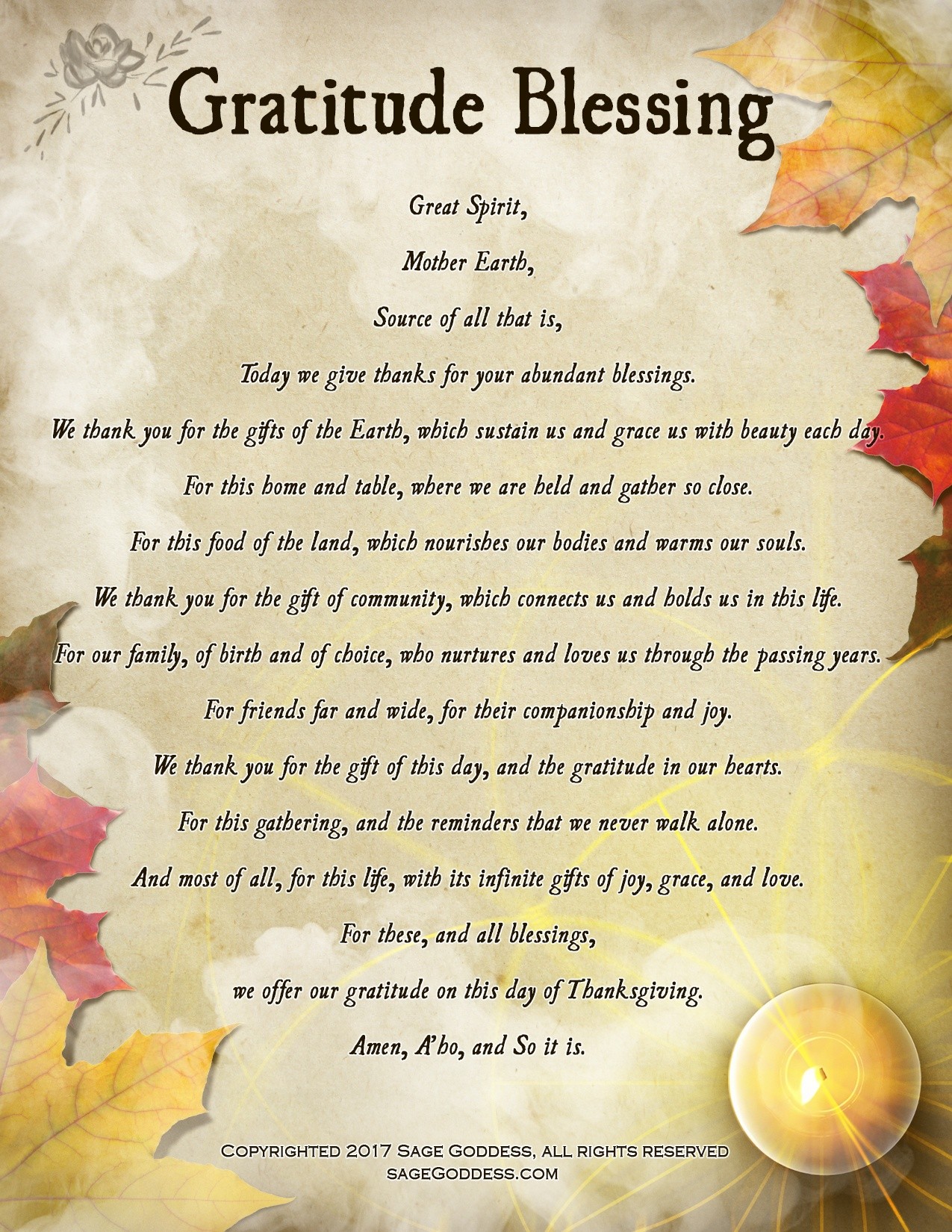 In the spirit of Thanksgiving, I invite you to join me in completing the circle of giving and receiving, with renewed gratitude for the never-ending cycle of abundance. May the birds' morning song, cream in your coffee, smile from a stranger, roof over your head, the ability to read this blog, love in your life – everything from the design of your fingernail to the unconditional, infinite love of Source – fill your heart with gratitude. May you experience and embody the art of receiving, liberating yourself and the entire Universe, by opening the floodgates of giving.
As you gather with friends and family, in the traditions of your choosing, I encourage you to share the power of invocation by affirming your gratitude with words, as words with intention literally become form that can change the world. As the Native Americans have done for ages, we can pray in gratitude, from a place of fullness and wholeness, that attracts the very things we seek. This requires coming from a place of trust in already having exactly what you need, even if you cannot see or feel it, yet. When you are ready to receive, you will. Everything is available here and now. I am so very thankful for you, and here you are! Together, let's create more of what we value most of all, honoring all that we've been given, and sharing in the joy of abundant celebration.
~*~ ~*~ ~*~ ~*~ ~*~ ~*~ ~*~ ~*~ ~*~ ~*~ ~*~ ~*~ ~*~ ~*~~*~ ~*~ ~*~ ~*~ ~*~ ~*~ ~*~
Do you love harnessing the energy of the moon in all her phases? Join my Full Moon Ritualists community on Facebook where we share educational tidbits on working with moon energy, learn about astrology, and engage in lively, wild conversations with other like-minded tribe members.
I absolutely love and encourage all magical feedback from my readers! However, I do not regularly moderate comments on the Sage Goddess blogs. So if you have a specific question or query that you'd like us to answer, please contact us via our Facebook page.