Welcome to the latest edition of the Weekly Sage, an outward and inward look at the week to come. So many of us use Tarot, astrology, and contemplative journaling to support ourselves and each other. We hope this little weekly blog will inspire all of us to think, feel, and transform in bigger ways together. May it unite us by collectively magnifying our personal intentions into a potent resource of positive energy, that will spread into our communities and beyond.
In the Northern Hemisphere, December ushers in the powerful winter season of love, warmth, and renewal. Many welcome a swift passing of these dark, frozen months, but this is a time that we should value deeply and delight in greatly. It's the point of the year where we nurture our existing relationships, and through deep introspection, the relationship we have with ourselves. People around the world put their cynicisms on hold to live and love through rose-colored glasses. Every day feels like a new beginning filled with wonder as imaginative and inspired as a child's heart. Faith is restored. Everything is magical. Everything glitters. The best is yet to come.
December 12th marked the first day of Hanukkah! Sometimes known as the Festival of Lights, Hanukkah is a sacred Jewish holiday that commemorates the rededication of the Temple in Jerusalem after the Maccabean Jews revolted against the Romans and took back control of Jerusalem. Hanukkah is observed for eight days and is celebrated by kindling the lights of a nine-branched candelabrum known as a 'menorah'. The story goes that after the Maccabean Jews retook Jerusalem, they only had one day's worth of oil to rededicate the Temple. Miraculously, the oil burned for an entire eight days, and ever since, the festival of Hanukkah has been an important celebration in the Jewish calendar. This can be a wonderful time to start a brand new ritual to explore a new tradition and expose yourself to new schemas.
On December 17th, nature invites us to ignite new beginnings, as our ancestors have done for ages, feeling the excitement of new intentions and possibilities stirring within us. RSVP here for our FREE Online New Moon Meditation to celebrate the last New Moon of 2017! This event will be pre-recorded, so you can enjoy it from the comfort of your own sacred space!  
Thursday, December 21st, marks the sacred day of Yule, the Winter Solstice. With great joy we can look to the skies and we can take comfort in the knowing that Grandfather Sun now begins his great journey back to us in the Northern Hemisphere. Yule is the longest night of the year, and the last of this cycle. Each day thereafter will return  the light to us moment by moment. Take solace in the solitude within as we transition through winter, but start cultivating the seeds you wish to plant come.
This year for the holidays, whether you celebrate Yule, Christmas, Hanukkah, or any sacred day, my wish for you is wisdom, joy, and faith. No matter how abundant your gifts and gatherings are, faith will light up the darkness of the longest nights.
Be sure to follow us on Facebook and Instagram so you don't miss a moment of the magic coming your way!  Visit our events page at SageGoddess.com/events for more information. We have celebrations coming up that you can attend no matter where you live.
We are all so excited here, at Sage Goddess, for our FIRST EVER Sage Goddess AroMagic Essential Oils collection! Scent is the key to unlocking the door to a connection with the subconscious. It can draw in the spirit guides, transport us back millennia, and tap into the darkest, most hidden parts of us. It truly is the deepest unspoken magic. Which essential oils call to you? Shop from our AroMagic collection now to find out!


Astrology – Ambitions and Achievements
We will experience a New Moon in Sagittarius on December 17th at 10:31 pm PST. When you set your new moon intentions, harness the buoyant, adventurous, and optimistic qualities of the Archer. Sagittarius is associated with the hips and thighs – the muscles that can really take you somewhere. As the sign of the saying "go big or go home",  Sagittarius encourages us to think and act in greater ways, with greater meaning, and with expanded awareness. RSVP here for our FREE Online New Moon Meditation to celebrate the last New Moon of 2017!
Marking the winter solstice in the Northern Hemisphere, the Sun enters Capricorn on December 21st with authoritative and practical energy. Capricorn is especially powerful in pushing you to take responsibility for yourself, and the life you are manifesting. Are there goals you keep striving for that no longer make sense? Are you judging yourself harshly and attracting that same judgment from those around you? Are you in charge of yourself, or are you awaiting permission and direction from some other place? Use this time to account for yourself and set practical goals to manifest your truest desires Sometimes giving up a goal or ambition is the best choice, allowing you to make room for something new, more aligned with your heart and purpose. With energy, balance always comes through polarity. Polarity is what you need to integrate for wholeness – a simple remedy to your frustrations. It's important to remember that, just like the see-saw or tightrope, tension is required for true balance. We need to know both ends of the spectrum, both points of view, to find the harmonious place of give and take…inside and out. For you Capricorns, Cancer is your polar opposite.

Cancer and Capricorn represent the parental axis, the archetypal combination of 'mother' and 'father'. The Capricorn landscape can feel hard and dry, taking effort to yield results. With the life-giving water of Cancer, the land becomes soft and fertile. Cancer on its own lacks boundaries and maturity. Collectively, Capricorn and Cancer nurture, grow, produce, and organize life into families, business, and empires. They yield profitable and respectable results that are not separated from the heart and soul.
Mercury turns direct in Sagittarius on December 22nd, giving all of us a reset from the disturbance  the retrograde brought upon our emotions and communication. Rejoice!


Weekly Tarot
The Star Tarot card comes forward today, for all of us, representing  serene tranquility, stillness, hope, and inspiration. In life, when we break free from the bondage of our own personal entrapments, be they material, physical, emotional, or ego, we often find the very connection we sought in all the seemingly wrong places. We are struck by light in our fortresses of ego and pride, and we fall to a place of Divine connection to Source. This place is where we discover a new faith in ourselves and All That Is. We see this peaceful serenity depicted in The Star card. You see in this card a naked woman; she is stripped of all material defenses and disguises, as we are once we free ourselves from our prisons. She is naturally and wholly herself in all her inherent Divine glory. The stars twinkling in the sky above represent hope and inspiration. The Star is a small glimpse into The Fool's own inner nirvana and connection.
Negative energies are no longer in existence – they have been replaced by trust and faith. When you receive The Star Tarot card, it is a reminder of a specific time and place in your life right now – a place of enlightenment, immersed in supreme joy. I encourage you to share this joy with the rest of the world! This feeling is exactly what many of the ancient traditions found across Buddhist, Yogic, and Hindu practices strive for. This is the place where the heart opens wide for the first time, and the Divine river of love flows unobstructed out of The Fool. As it is for any of us the first time we taste this blissfully peaceful state, this is a truly magical moment for you on your  journey.


Weekly Journal – Busy making plans?
There are two kinds of people in the world – those who love to plan, and those who couldn't care less. Those who need control, and those who prefer spontaneity. During the holidays – Christmas, Hanukkah, Kwanzaa, Yule, New Years Eve – when expectations are high, and the probability of your plans falling through are even higher, how does your preferred method affect you? What happens when spontaneity leads to disappointment? When your plans haven't gone the way you thought they would? And if your plans are executed seamlessly, I implore you to please share your secret! It's a challenge to try new things, to think in different ways, and to experiment with your limits. If you change a part of your daily routine a day, one thing that makes you slightly uncomfortable  – taking a different route, saying yes when you want to say no, going for that donut instead of your fruit bowl – you start rewiring your brain. Your head, heart, and body start adapting to change, and slowly create space for new ways of thinking, being, and feeling. You will be more likely to face and grow through challenges when you stop camping in your comfort zone, and explore different avenues. What habits would you change? How can you expose yourself to fresh ways of thinking and responding?

Big Question: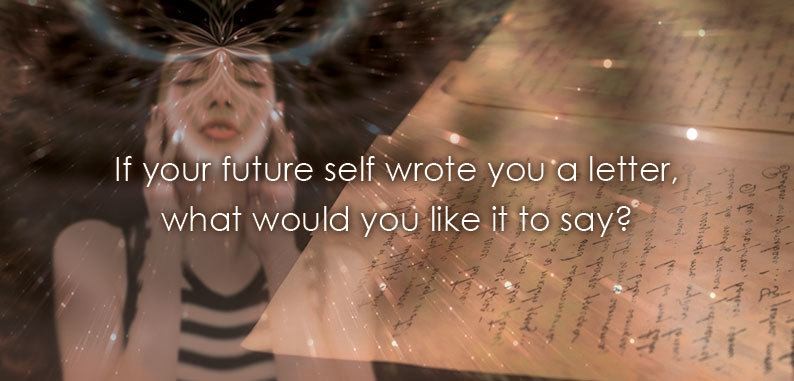 I love and encourage all magical feedback from my readers, my loves! However I do not regularly moderate comments on the Sage Goddess blogs. So if you have a specific question or query that you'd like us to answer, please contact us via our Facebook page or email magic@sagegoddess.com.