Welcome to the latest edition of The Weekly Sage, an outward and inward look at the week to come. So many of us use Tarot, astrology, and contemplative journaling to support ourselves and each other. We hope this little weekly blog will inspire all of us to think, feel, and transform in bigger ways together. May it unite us by collectively magnifying our personal intentions into a potent source of positive energy, that will spread into our communities and beyond.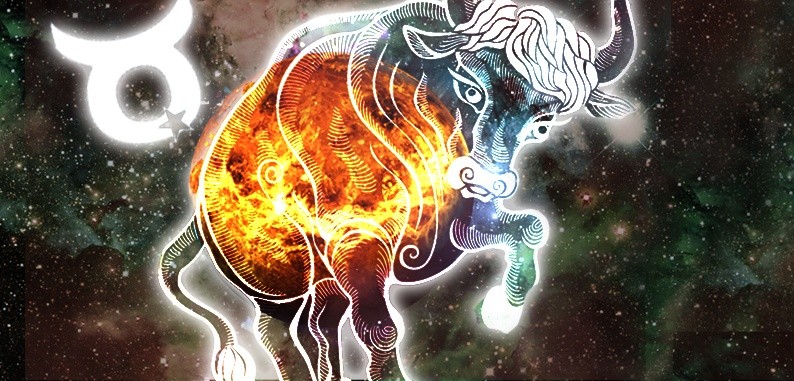 Astrology
We just entered the season of Aries, our first month of spring here in the Northern Hemisphere. Continuing the Arien theme, Mercury turned retrograde in the sign of Aries on Thursday, March 22. We are now collectively working with more fiery energy – encouraging us to get up and go. Venus has also been transiting Aries since March 6, but she will move into Taurus Friday night, March 30 at 9:54 pm PDT. Beauty and peace-loving Venus in the sensual, grounded sign of Taurus is a welcome balance to the raw intensity and active assertion of Aries the Warrior. Let's all take advantage of the comfort, security and pleasure the Love and Earth Goddess offers when in her own sign of Taurus. We have until April 24, when her journey around the Sun leads her into Gemini.
Venus in Taurus seeks comfort, beauty and ease. Efforts and relationships only seem worthwhile if they have personal value and meaning. When Venus is in her own sign, she is at home. Earthy, sensual, grounded Taurus finds delight in simple pleasures. Use this transit to reconnect with your receptive nature, and delicious moments of life. If you struggle with self-love and self-worth, this is the time to invoke your inner goddess and pledge your loyalty to meeting her needs. Not just your needs for survival, but what you truly need to experience abundance and bliss. In what ways do you feel full versus empty? What are you worth? Venus in Taurus can become fixated on money and material resources to prove her value. Remember that in mythology, Venus, the goddess of love does nothing to earn love – she in inherently lovable. From this place of embodied self-love and value, she magnetically attracts her lovers, and they line up, awaiting her reception.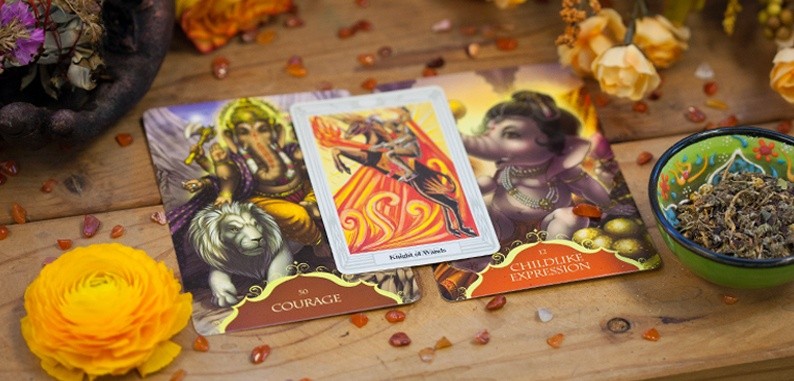 Weekly Tarot
As we journey through A World of Magic this year, we are choosing a variety of Tarot and oracle decks for the Weekly Sage, as they correspond with the civilizations we explore. This edition, we are using Whispers of Lord Ganesha deck by Angela Hartfield, to embrace the sacred symbology of India.
The King of Wands comes forward today, for all of us, representing mastery of creative life force. The King of Wands is a bold and charismatic leader – one who is the light of inspiration. He has mastered his creativity in order to inspire others. The King of Wands loves to shower you with attention and lift you up. He motivates from his heart, as he himself has a great passion for living. As child of the Sun, he knows how to sing, dance and play like a child. He is a source of light and creativity, immortalized in every project and person he touches. And he likes it that way, since he represents the fiery sign of Leo. As passionate as the King of Wands can be, the downside is that his drive can also make him a forceful and dramatic dictator. He can overwhelm with his need for attention until he's learned to generate love and approval from within. Immature Leo can be arrogant, causing him to take others for granted – or see them as competition. Not allowing anyone to stand in the way, an underdeveloped Leo has the talent of accomplishing his goals at any cost – even at the cost of others. When Leo's infinite passion and energy is used for good, it can change the world in mere seconds.
When the King of Wands appears, we are encouraged to move forward with opportunity – embodying the spirit and passion of Leo to master ourselves, and our creativity in order to inspire others and lift them up. The King of Wands asks us, " Where are you putting your attention, and is it being harnessed for the good? Do you let yourself truly shine? Are you letting yourself praise others, or does it feel threatening?" When Court Cards appear in a reading, they can represent who you are, who you need to be, or who might show up for you. Are you showing up for others? Are you showing up for yourself? Do you need to harness more of that brave Leo energy in your life? Do you need to lead with your heart? Just like the King of Wands, become the sun in your life, shining a light on your strengths and pursuits. Share the spotlight with others, inspiring and leading them with the same love and encouragement you give yourself.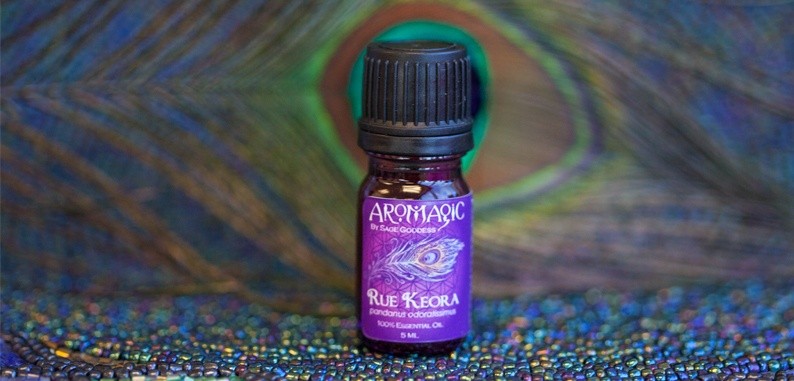 AroMagic Oil of the Week
In its essence, rue keora is grounding, like the fabled Vedic flower that floated slowly downward from the very edge of the cosmos. The fragrance of rue keora essential oil focuses and calms a tired, scattered mind. Its aroma clears creative blocks and inspires ingenious thinking and innovation. Perhaps the little rue flower did originate from the edges of the cosmic universe, because it is inherently cleansing and purifying to the spirit. When used topically, it soothes and nourishes the skin, leaving behind a healthy fresh glow.


Weekly Journal
Really getting to know ourselves is a journey not everyone is brave enough to embark on – we won't like everything we find. Discovering more of our natural selves changes how we show up in the world, how others see us, and most importantly, how we see ourselves. Everyone has their own measure of success. You are your own personal brand – a walking advertisement. Whether you know it or not, you carry a sort of stigma attached to your aura. In your process of self-discovery you may find you've re-branded yourself as a fierce adventurer, when at heart you are a sweet homemaker. Maybe you never gave yourself permission to be something different.
The way you carry yourself is reflective of how you feel on the inside. What you create with your talent or how you show up for others, is the mark you leave in this world. The way you treat others reflects your confidence in yourself. How you express yourself shows how you honor yourself. How much you decide to show others tells the story of your ability to trust. How and who you love is a result of your self-love. Your habits, fears, and your tendencies tell the story of your childhood. What do you show others? What do you keep for yourself? What is your personal brand?

Big Question