Welcome to the latest edition of the Weekly Sage, an outward and inward look at the week to come. So many of us use Tarot, astrology, and contemplative journaling to support ourselves and each other. We hope this little weekly blog will inspire all of us to think, feel, and transform in bigger ways together. May it unite us by collectively magnifying our personal intentions into a potent source of positive energy, that will spread into our communities and beyond.
The Wheel of the Year will soon return to its place of new beginnings, igniting the visible spark of hope. In India, Holi, known commonly as the Festival of Colors and Festival of Love, signifies the emergence of spring, and begins on the last full moon of winter. Holi is a celebration of life. Welcoming the spring is honoring the creative life force in everything. When we add color to something, we give life to it; we are painting our canvases of life.
The Festival of Love is messy, covering everyone with the same paint – people are literally colored with powder and water. Its magic reminds us we are all equal at heart and play.  If we accept that our bodily functions, emotions, and actions are naturally messy, we will make room for more pure expression, enjoyment, and passion for life.
Join me live in person or online for our Full Moon event on March 1, as we celebrate life and abundance, receiving and sharing our blessings together. Get your full moon tools ready! I intentionally chose each item in my India Full Moon: Holi Festival of Love Set to bring the sensuality and richness of India to your practice, as you welcome spring, new beginnings, and more love and color into your life.  


Astrology – Detoxifying Moon
The Virgo full moon approaches, and we are ready for Luna's maximum light after a month without her fullness. On March 1, we will unify in rejoicing across the world, under the last full moon of winter in the Northern Hemisphere. Virgo is associated with the virgin and purity. It definitely correlates with "operation clean up", but not in the ways our minds most commonly like to take us. Virgo guides us to remember who we are at our core, heart and essence. Virgo harnesses the power of discrimination and filtration. It serves to help us serve ourselves by releasing impurities that are not in alignment with our true essence. People will talk of this coming Virgo full moon as the "detoxifying moon", and yes, it's a great time to purge toxins, and eat and drink clean, but it's so much more than that. If you want a good measure of what's happening inside of you, look to what is coming out of you. Pay attention to your words and actions, and their quality. Allow the illumination of this full moon to reveal the manifestation of your intentions and what you are creating in the world.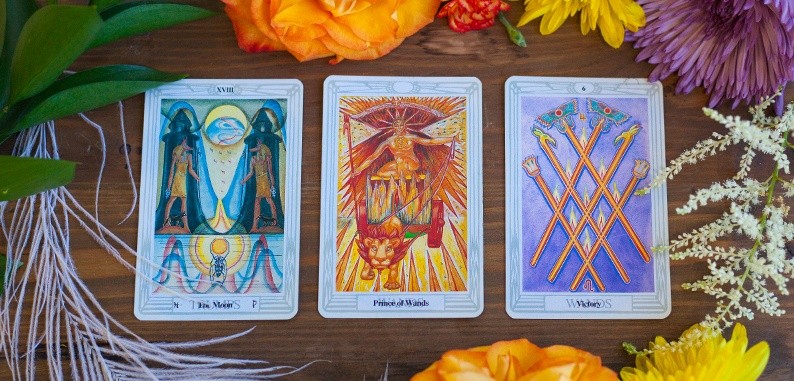 Weekly Tarot
As we journey through A World of Magic this year, we are choosing a variety of Tarot decks for the Weekly Sage, as they correspond with the civilizations we explore. This edition, we are using Aleister Crowley's Thoth Tarot deck, once again, to embrace the secret symbology of Egypt. The Prince/Knight of Wands comes forward today for all of us, representing adventurous pursuit. The Prince of Wands is determined and impulsive. He doesn't allow fear to distract him from his dreams, and drives forward with full force. He is ambitious, but his audaciousness can keep him from thinking anything through. When we take action toward our goals, it's important that we also slow down and pay attention. When the Prince/Knight of Wands appears in a reading, he asks us to trust our intuition. We are advised to move forward with our creative projects with both passion and caution; we must balance our dreams with reality, so that we're not swept away by fantasy.


AroMagic Essential Oil of the Week
Sandalwood essential oil is beyond sacred. It is the second most expensive wood on the planet. Simply scattering sandalwood creates an instant sacred space. When we anoint the body we are, in essence, anointing the temple, and sandalwood oil is a perfect choice for anointment because it is so deeply spiritual. It has been used for at least 4,000 years. Many ancient temples and sacred objects, such as rosaries and staffs, are made from this wood. The aroma of sandalwood can transport you to another realm through scent associations. It has the ability to bypass the conscious mind to access the subconscious, which makes it ideal for shamanic work. Sandalwood calms the mind and alleviates worry by relaxing the central nervous system. It is particularly powerful during meditation, allowing you to embrace spiritual peacefulness and relaxation. Sandalwood oil is healing, grounding, and fiercely protective.


Weekly Journal – Are you brave enough to ask for what you want?
Fear is a shapeshifter – it can take on many forms. Fear is healthy, because it can act as a compass. It assures us that we love, care, and are wise enough to react to situations that can potentially be dangerous. However, when you allow fear to paralyze your life choices, you give birth to the monster of many faces. Fear preys on your insecurities. It corners you, inhibiting you from living your truth; damaging relationships and potential growth. When you are timid, you allow others to take advantage of your kindness and complacency because of your lack of subjective justification. You don't ask for what you rightly deserve; you don't believe you are worth what you seek, and your self-awareness starts to fade, making it difficult for you to set goals or work projects through to conclusion. When you are bold, alert, and focused, you can make a difference – not just in your spiritual development, but in your physical world…our physical world. When you have faith, and when you are brave enough to listen to your deepest desires, all the forces around you will conspire to help you. You must not be afraid of chaos or failure – be afraid of the fear that will inhibit you from being your most radiant self. You will never be more beautiful than when your unrestricted soul illuminates throughout your being. Are you brave enough to ask for what you want?
Big Question